IWAR MAGAZINE (updated 9/26)
"It's Gold Tuesday, and you know what that means... reading the IWAR Magazine while you wait for Gold to post!
"The 197th IWAR Magazine cover features the BRL's Hillbillies -- Kevin, Steve, and Uncle Randy -- who returned earlier this year and have been slowly building their empire, but at Autumn Anarchy, they made it official and joined forces with the Modern Models (Jack Ferdinand, U.S. Mayle, and the Mannequins) to form the newer, stronger version of their stable, Dynasty. Will Dynasty take over the BRL as Kevin plans, or will some BRL stars rise up to challenge them?
"The IWAR's fall events -- Bound for Glory Series #11, the Tag-team Derby #16, the Triple D Cup Trios Tournament #14, and the War Games -- all launch THIS cycle! After some last-minute legwork, these contests filled up, but if you missed out, you can still join the IWAR Ladder Match Battle Royal, which takes place in the Holidays cycle. Due to low enrollment, we have decided to cancel the 2023 IWAR Draft and shift it to an every-other-year event. That said, if you want to join an IWAR league, take a look around and see which of them you want to compete in.
"Of course you should take the IWAR Network $12 match deal, which gives players 20 matches and 30 scrub wins! There is also the special battle royal deal in the IWL and BRL that offers two entries for just $1, and it means even more, as the winner of the IWL battle royal gets free matches! In the BRL, the home of the IWA's biggest credit prize, the credit is now split 50/50 between the battle royal winner and the BRL Champion! We also debuted the IWAR Wrestler Creation Lab to help our players see their wrestlers come to life (please be patient, as we have many requests to fill).
"The IWAR Network offers the IWAR Gold Strategy Workshop with strategy expert Mike Cook, who offers advice that will help you score higher. Also check out our one-off show about multi-man strategies!" (The YouTube page will open in a new browser window. The IWA is not responsible for its content.)
"The IWAR Creative Team -- Mike, Derek, Scott, Jeremy, Aaron, and I -- want to thank the players who make the IWAR Network the best place to play in the IWA."
-- IWAR Commissioner Matt Riley
For the latest issue, right click HERE and choose "Save Target As..." (you will be downloading a PDF file with a size of 2.5MB).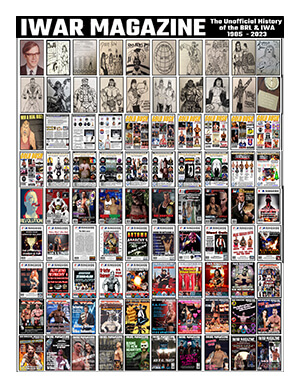 SPECIAL EDITION OF THE IWAR MAGAZINE: IWA TURNS 38, BRL HITS 600! (updated 4/10/23)
"This special edition of the IWAR Magazine that acts as the Unofficial History of the IWA starts in 1985 and honors the Battle Royal League reaching its 600th cycle of competition by following the growth of the game through the events, changes, wrestlers, rivalries, and more. We hope you will enjoy this trip down memory lane, and the odds are good that you will see some names you recognize. This is an update to the 2017 edition, so if you saw it before, check it out again and see all that we've added.
"Thanks to all the people who've played in the IWA and have helped to make the game so much fun."
-- IWAR Commissioner Matt Riley
For this issue, right click HERE and choose "Save Target As..." (you will be downloading a PDF file with a size of 9.8MB).
THE UNOFFICIAL HOW TO WIN IN THE IWA GUIDE
Learning the ropes in a game where those ropes are imaginary can be confusing, but this unofficial How to Win in the IWA video is here to help. Join IWAR and BRL Commissioner Matt Riley as he walks you through the fundamentals of the game to help you get a better grasp of the IWA.
Click HERE for the YouTube page. (This link will open in a new browser window. The IWA is not responsible for its content.)
---
GO GREEN
The current bulletins from all our leagues are now available on our Results page. These PDF files are updated the same day the federation results are posted and include everything the snail mail versions have, with the added bonus that some feature pages in color.
Match results are also available in HTML format from that same page.
If you want us to continue providing results this way, contact Kimberly and tell her you'd like to "go green." We'll stop sending you printed bulletins, which will help keep our prices low, and you'll get the warm, fuzzy feeling that comes from knowing you just helped save the planet. Everyone wins!
EMAIL REMINDERS
Keep a copy of every email you send us. If you do not receive a reply within 48 hours (not counting Saturdays, Sundays, and holidays), resend your message. Kimberly replies to all legitimate email.
Also, make sure to email any matches, strategy changes, etc. at least 24 (and preferably more than 48) hours before your league will be processed.
BOOKMARK THIS PAGE!
Add it to your Favorites so you can return easily.