JOHNNY B SAYS
Happy 25th birthday, IWA!
When I created the Imaginary Wrestling Association back in 1985, I simply wanted to make a game that would allow wrestling fans to experience the thrill of managing a professional wrestler's career, and help them build friendships with fellow wrestling fans along the way. I never dreamed it would reach the heights or attain the longevity that it has, and I have all of you to thank for helping to bring the IWA to where it is today.
Your suggestions and fresh ideas have led to many improvements in the game, and your creative comments, drawings, words of praise, and holiday greeting cards have brought me and the entire IWA staff as much enjoyment as we hope you've been receiving each time you open one of our big, white envelopes. It has been an honor and a privilege providing this service to all of you over the last two and a half decades, and we sincerely hope you'll permit us to continue delivering wrestling entertainment right to your mailbox every three weeks.
The first major event of our silver anniversary is Imagimania XXV, a giant contest in which we're giving away 25 real-life championship belts! That's something you don't want to miss, and it's just one of many surprises coming your way. Stay tuned -- this is going to be a year to remember!
HALL OF FAME INDUCTEES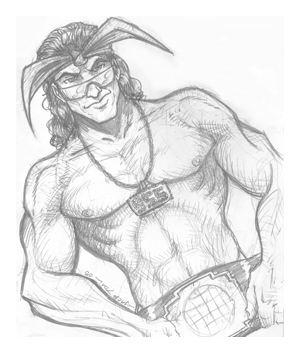 "Sweet" Scotty Sensation is one of the most charismatic and flamboyant wrestlers the IWA has ever seen. He is retiring from the industry with an impressive record of 1,428-251-38, with $2,942,300 in earnings and 10 stars. The self-proclaimed "G.O.A.T." (Greatest Of All Time), as well as the "Platinum Player," Sensation first entered the IWA in 1998 in the now disbanded Flex Club League, winning numerous titles. After a lengthy layoff with injuries, Scotty made a shocking return to the IWA in February of 2004 in the Devil Inside League and was quite successful. Sensation not only became the first-ever DIL Central champion, he is a three-time DIL League champion, three-time DIL TV champion, and a 14-time DIL tag-team champion (with 5 different partners). The pinnacle of Scotty's career was when he won the unprecedented IWA World Championship in December of 2005. "The Sweet One" would like to thank all of his fans, as well as fellow managers Don Szurka, Dave Mitchell, and Chad Burton, for making his IWA career full of good times. Scotty would also like to thank his best friend and longtime "Sweet & Steely" tag-team partner "Steely" Bud Sturgis, who is managed by the legendary Bud Sturguess. (Scotty's manager, Doug Stiner of Texas, will receive a plaque in honor of this occasion.)
Darren Lane of Arkansas will be receiving two engraved plaques for leading a pair of his LLL grapplers into our Hall of Fame! CB stablemates Nicole Doyle (1,089-190-53, $1,563,800 *11) and Kimberly Parker (1,059-98-29, $1,406,600 *10) were both fan favorites. After all the bumps and bruises she took in the ring, Nicole has decided to return to her home in Jonesboro, Arkansas to become a swimsuit model. Kimberly has decided to return home to Jonesboro and use her money to open up her own restaurant chain called "Kimberly's Steakhouse."

SDI CEO/Founder Jason Percy Brass the Seventh speaks on his IWA Hall of Fame Induction:
"Many things have been said about Scandalous Domination, Inc. since we were established in January of 2005. We started out in the Heart Throb League where Platinum Chanel became its first legit league champion -- good times. My intention was to create not just a stable of awesome athletes, but to create a professional wrestling COMPANY full of great wrestlers. So, I used the resources at my disposal from Brass Ventures International (SDI's parent company, which I also own) to do just that. Make no mistake, SDI was always a company unto itself using the IWA as a backdrop for some of the most memorable television in history. Johnny B paid us for bringing phenomenal ratings, while we maintained ALL of our licensing, merchandise sales, and gleaned half the profits of any appearance that we made at live events and pay-per-views. It was a SWEET deal. Like anything else, all great things must come to an end. We have chosen not to renew our contracts, and go out like the classy people we are, for it will never be allowed to be said that SDI outlived its usefulness. At the end of our five-year run, we will go out as champions like we came in, for I have retired as one half of the tag-team champions in the ASL, the IWA's oldest league. I guess it's poetry, as SDI never really focused much on tag-team wrestling. Interesting.
"I have had a phenomenal career. I would not change a thing. I have NEVER missed a cycle and have wrestled in the HTL, DIL, BBL, APL, ABL, and finally the ASL. As my career closes, I have amassed 1,008 wins, 436 losses, 111 draws, 23 stars, and have held 1 IWA-wide Mountain title, 3 league titles, 1 tag-team title, and 21 regional titles -- not too shabby for a guy who started his pro-wrestling career at 50 years old and is now known as the best scientific wrestler the sport has seen in quite some time. All of these accomplishments fill me with nothing but pride. No, SDI was never a huge stable like CAST or CTI, but that was never our goal. We strove to be a small company who would become the central focus of any league we entered, and to this end, we have become probably the best drawers of heat in IWA history. Thank you to all the managers who feuded with us over the years, because it was honestly your energy that we fed off to make us great. And to the fans, SDI would be nothing without your hatred of us. We did it all for you! Platinum, Stone, Crucifier, Nairobi... as the SDI executive board... WE HAVE ROCKED THIS JOINT! The 5 of us were the perfect blend of skill, malice, violence, and cunning, and I am blessed to have wrestled by your side and call you all friends. This is it. Old JPB7 is closing shop, but you can read all about my journey in my forthcoming book, 'A Professional Wrestling Drama: SCANDALOUS DOMINATION, INC.' SDI or DIE!"
(Jason's write-up was provided by manager Sirree A. Raysor of North Carolina, who will soon be receiving a plaque!)
WORLD HEAVYWEIGHT CHAMPION
This $300,000 check was made out to Sadistic Steve Supreme (OSL), who used his 500-pointer to win 100 free matches or a real wrestling belt and 50 free matches for manager Steve Gasperoni of California! After his title-clinching victory, instead of Supreme's music, "Nitro (Youth Energy)" by Offspring blasted through the arena, and UL: Sammy Solar charged the ring and grabbed the belt away from the ref. With mic in hand, he said, "You've proven to be the toughest opponent of my illustrious Hall of Fame career, and now the whole world knows how tough that is! Congratulations, Steve!" as he handed him the title. The Sadistic One, uncharacteristically overwhelmed, embraced his adversary, then said, "Sammy, you've been instrumental in my path here, and even though you've given me the worst beatings of my young career, I'd be remiss if I didn't admit that without those matches against a world-class grappler like yourself, I wouldn't have been able to overcome the 'flood' of opponents that it took to win the IWA World Heavyweight title!"
U.S. CHAMPION
ZOMBI: Knightmare (PML) had to use point flow to turn back Æ: The God of Destruction (MIL), EDGE stablemates Bloody Barrister (LSL) and Tim Riggins (PRL), CTI members Ruud van Nistelrooy (APL), Hellraiser Demon (RBL), and the X-Rated Assassin (MSL), plus CAST mates Paul "Punisher" Williams (ZPL) and the Megabrain Mark Duchaine (CCL). Each had 499 points! Knightmare's manager, Chad LaBombard of Michigan, wins his choice of an engraved plaque or 25 free matches.
KING OF THE RING
We added up the values of the holds at positions 2, 6, 7, 9, 10, 12, 13, and 15 in the strategy of every league battle royal winner, and for the third cycle in a row, the top score was 272 points! CTI: Christopher Moltisanti (CLL) was awarded the crown, and the choice between an engraved plaque and 25 free matches went to his manager, Mike Carver of Pennsylvania. The battle royal outcomes were determined using hold positions 1, 3, 4, 5, 6, 8, 11, and 14.
AMERICAN CHAMPION
Reigning IWA World Heavyweight Champion Sadistic Steve Supreme (OSL) picked up another 10 free matches for Steve Gasperoni of California when he edged out CAST: "Captain Howdy" Carleton Hendricks (ASL) for this title! Each wrestler had a strategy worth 500 points.
ASIATIC CHAMPION
UL: Malevolent Matt Athena (CFL) received this $25,000 prize after defeating the champions of our other Asiatic leagues! His manager, Kevin DiFranco of New York, earned 10 free matches for supplying Matt's 500-pointer.
HARDCORE CHAMPION
Mike Dorsett of New York wasn't ready to part with this title (or its prize of 10 free matches), so he armed EDGE: The Dressed Wombat (DDL) with an unbeatable 500-point strategy and kept it for another cycle!
METROPOLITAN CHAMPION
ZOMBI: Rick Cartel brought this title home to the Mid-Atlantic Region League using his 499-pointer. His manager, ~TZ~ of Virginia, will receive a well-deserved 10 free matches!
CRUISERWEIGHT CHAMPION
Adam Gaff of Indiana watched from ringside as his grappler, Nathaniel Neutron (ESL), unleashed his patented "Nuclear Detonation" on the champions of our other rookie leagues and claimed this $25,000 title. Adam was awarded 10 free matches for his involvement!
FEDERATION PLAY-OFFS
Each federation title was won by a wrestler with a 500-pointer! ZOMBI: Mad Dog Tim Zaegel (IML), managed by ~TZ~ of Virginia, secured the Iron Federation title by edging out both CTI: Viper (YLL) and CAST: J.B. Ross (MBL). Steve Supreme took the Steel Federation honors before trading up to the World Heavyweight title. Michael Drake of New York gained the Gold Federation's 25 free matches by coaching Æ: D.K. Drake (CLL) to point flow victory over CAST: "Captain Howdy" Carleton Hendricks (ASL). In the Diamond Federation, Hardcore Champion EDGE: The Dressed Wombat (DDL) edged CAST/ZOMBI: The Mysterious Benefactor (AFL) and ZOMBI: Uncut Jhonny Demonic (LOL) to win the prize for Mike Dorsett of New York. The battle for the Bronze Federation ended with CTI: General Zod (MSL) pinning Asiatic Champion UL: Malevolent Matt Athena (CFL). Zod is owned by Mike Carver of Pennsylvania. CTI: Riot the Renegade Savage (PRL) picked up the Jade Federation strap, thanks to a strategy he received from John Durrani of Connecticut!
NATIONAL CHAMPION, IWA-WIDE REGIONALS
Michael Eaves of Mississippi formulated a 500-point strategy and gave it to Northern regional champion CAST: Blue Ninja (MEL), then witnessed his wrestler defeat our other IWA-wide regional titleholders and gain him the choice between an engraved plaque and 25 free matches! Those who fell to the Blue Ninja were...
Atlantic:
Æ: Bloodshed Butcher (TDL)
managed by Michael Drake of New York; scored a 500 total
Central:
PSY: Black Knight (IML)
coached to 500 points by Mike Dorsett of New York
Dixie:
ZOMBI: Harvester of Broken Dreams (NGL)
owned by Chad LaBombard of Michigan; had a 500
Eastern:
Æ: Oscar Montoya (CLL)
given a 500 by Scott Lowe from none of your business
Mountain:
CAST: The Stroke Billy Oakes (MBL)
managed by Randall Reedy of Michigan; had to edge out CAST: "Beautiful" Brendan Cash (BRL), both with 500
Pacific:
CTI: XD Beast (RYL)
under contract to Scott Bernes of Ohio; used point flow against CTI/PAIN: Rock 'N' Roll Erich Von Wolf Jr. (ECL), both with 499
Prairie:
E$T/CN: Buford (LSL)
owned by Zach Gargus from Parts Unknown; edged CTI: Killmonger Demon (RBL), UL: Violent Vinas Athena (CFL), and CTI: Ndelena Deathsmoke (LBL), all with 499
Southern:
UL/TSD/UA: The Insurance Policy (OSL)
property of Michael Giuliano from Connecticut; beat PSY: Psychotic Clown (CFL), EDGE: Ghost of Magellan (MEL), and Æ: Jacques Strappe (JIL) by point flow
Western:
CTI: Hands of Death Pen Jak (OSL)
armed with a 500-pointer by "Too Dope for VH1" B.C. Empson of Virginia
LADIES' TITLES
ZOMBI: Jenny Striker (FFL) traded in her World Tag-team and U.S. Six-woman titles for the Ladies' World Championship! Her 500-point strategy was the work of Chad LaBombard from Michigan, so he wins an engraved plaque or 15 free matches. Chad also went home with the Queen of the Ring title, compliments of ZOMBI: Drunk Debbie Stevens (VVL) and her 499 total. (NGAA: Rydia Stormer of the MDL had the same QOTR total, but a lesser overall strategy total.) He also picked up the Ladies' National honors when Debbie edged out SW: Lilith the Satanic Princess (LLL)! Æ: Tricia Horror (VVL) used her 499-pointer to win the Ladies' U.S. title for Kevin Burr of Virginia. Her stablemates, Demolition Debby and Demolition Diane (VVL), achieved a perfect team score of 516 points, which enabled them to grab tag-team gold. The pair is managed by Michael Drake of New York. Taking the U.S. tag straps were Æ members Blackstar RachelAnn Ele and Queen of Hearts (VVL), who received a 516-point team strategy from Sly Smith of West Virginia. Sly also took possession of the World Six-woman belts with his trio of Æ: Queen of Diamonds, Queen of Hearts, and SNL Sherry Cherry (VVL)! The U.S. Six-woman championships went to Æ: Junky Jaala, Dirty Danni, and Terrible Tangela (MDL), who are managed by Anthony Rodriguez of Alabama.
WORLD TAG-TEAM CHAMPIONS
Tony Pesante of New York earned the choice between an engraved plaque and 15 free matches by leading Æ: The Natural Born Loser and the Perennial Scrub (OSL) to these $50,000 titles! The top seven teams in the standings had a perfect score of 516 points.
TOP 10 TAG-TEAMS
1.
Æ: The Natural Born Loser & the Perennial Scrub (OSL)
2.
Æ: Mike Tyson & Michael Vick (NBL)
3.
Æ: The Great Muta & Trent Acid (RYL)
Æ: Charlie "The Goose" Monroe & "Maniac" Mike Death (KKL)
Æ: Mike Gold & Mike Legend (FLL)
6.
CAST/ZOMBI: Rusty Riggs & Jaxx Justice (SHL)
7.
UL: Dominant Dante & Violent Vinas Athena (CFL)
8.
EDGE: Bloody Barrister & Hydrocephaloid (LSL)
9.
CAST: Joe Schaffer & Hellbent Peter Houston (CCL)
10.
ZOMBI: Threat Level Midnight & Uncut Jhonny Demonic (LOL)
U.S. TAG-TEAM CHAMPIONS
These tag straps also went home with Tony Pesante of New York! Pocketing $20,000 apiece were Æ: The Dangerous Dwarf and the Savage Smurf (ECL), who had to edge out stablemates "The Prodigy" Mike D. and Professor S (FLL), the Green Beret and the Shaolin Monk (ABL), plus the Icon and the Phenom (ALL). UL/TSD/UA: The Insurance Policy and "Mr. OSL" the Survivor (OSL) also had 516 points but they, too, were out-flowed.
WORLD SIX-MAN CHAMPIONS
Three teams ended in an unbreakable tie while battling for these titles. Fab, Ultra, and Razzle Dazzle belong to ~TZ~ of Virginia. Felony Stalker is managed by Garett Guzman of Kansas, while the Disoriented and Sociophobic Stalkers are owned by Mattias Karlsson of Sweden. Sly Smith of West Virginia helped his GRL team to a repeat performance, keeping these titles in his possession for a sixth consecutive cycle! Incredible! The top eight teams listed had 521 points. The trio from the NDL remained on the list from last time!
TOP 10 SIX-MAN TEAMS
1.
CAST/ZOMBI: Fab, Ultra, Razzle Dazzle (SHL)
EDGE: Felony, PSY: Disoriented, Sociophobic Stalkers (NBL)
Æ: Nationals #1, #2, Tony "The Boss" Black (GRL)
4.
PSY: Beale Street Brawler, ZOMBI: The Ironing Sheik, PSY: Mad Fist Michael Chambers (OSL)
TB: J. "The Technician" B., Ghetto Dweller, F. "the Hitman" B. (KKL)
SW: Gaap, Ea Edwards, Seere Smith (ASL)
7.
ZOMBI: Stunning Steve Sawyer, Kid Extreme, "The Craze" Chris Genovicci (BWL)
8.
EDGE: Californication, CTI: Mad Deltoid, PSY: "Dumb Jock" Steve Hale (NDL)
9.
EDGE: Brian "Smash" Williams, CTI: "South Texas Deathride" Chase Garza, Lone Wolf Brimstone Savage (PRL)
10.
CTI: The Sixth Street Strangler, EDGE: Dwight K. Schrute, PSY: The Trendsetter J.D. Slaughterhouse (SAL)
CAST: Degenerate Gambler, Guy from Minnesota, Another Guy from Minnesota (JDL)
U.S. SIX-MAN CHAMPIONS
Mike Carver teamed his CTI/NAA: Dangerously Hardcore and Dangerously Sexy with CTI/LPPF: Evil Erich (GRL), who belongs to John Gabriel, and the Pennsylvanians saw their deadly concoction win these $20,000 titles! Their men's team strategy was worth a perfect 521 points.
TOP 10 LEAGUES
The most active leagues for the Summer cycle, going by the number of matches, are shown below. For the eighth cycle in a row, the New Blood League found itself in first place -- and it fell short of the all-time record (held by the MRL) by a mere 123 matches! Managers in the Just Incredible League can take two matches for $1 next cycle, since their active wrestlers had the highest average strategy total out of all 10 leagues. The previous winner, the GRL, finished less than a point away, and the MRL was less than half a point away!
| | | |
| --- | --- | --- |
| 1. | NBL (2,355 matches) | 465.309 |
| 2. | UWL (1,070 matches) | 491.565 |
| 3. | GRL (969 matches) | 491.750 |
| 4. | XPL (703 matches) | 489.712 |
| 5. | MRL (596 matches) | 492.227 |
| 6. | WWL (569 matches) | 490.692 |
| 7. | UEL (547 matches) | 485.423 |
| 8. | WSL (500 matches) | 490.585 |
| 9. | JIL (495 matches) | 492.694 |
| 10. | CFL (481 matches) | 488.391 |
TOP 20 STARS
(Only active wrestlers were included on this list.)
1.
CAST: Sinister Steve Stryker (CSL)
63
2.
CAST: Diesel Duddick (NSL)
62
3.
CAST: Nightmare Sam Hell (NDL)
59
4.
CAST/DFS: Innovator of Arrogance Keith A. Maple (XPL)
57
5.
CORE: Chris Coldstone (JIL)
LOD/NB: Danni Ashe (FFL)
Æ: Danny S. Spivey (FSL)
CTI: Outlaw Tony Taylor (NFL)
CAST: Wonderful Wally Brown (GRL)
55
10.
CAST/666: Lord of Illusions (JIL)
54
11.
wWw: Mike White Lightning Moore (BRL)
Steve "The Sandman" Sands (KKL)
53
13.
CAST: "The Big Mofo" Anthony Dudick (CCL)
CAST: Buda von Blitzen (MIL)
UL: Duke Dangerous (ECL)
CTI: Loverboy Louie Lopez (NFL)
CAST: "LV's Grimiest" Keith Rosenthal (PKL)
wWw: Mike White Lightning Moore (QPL)
UL: Sammy Solar (OSL)
52
20.
CAST: Medieval Tymes (GRL)
X-RAIDED: New Breed Terminator (ASL)
CAST: Sir Gunther Kinderwacht (NAL)
EDGE: Warchild (MEL)
51
LIST OF LEAGUES
IRON FEDERATION: Center Stage, Extreme Action, Extreme Existence, Hardcore Wrestling, Iron Man, Jersey City Wrestling, Murder Incorporated, Mysterious Benefactor, Next Generation, Quick Pin, Rising Stars, Wrestling Superstars, Xtreme Poison, Young Lions
STEEL FEDERATION: Absolute Pain, Burial Grounds, Casting Couch, Devil Inside, East Side Wrestling, Fighting Legends, Intense Impact, King Kong, Lost Souls, Mid-Atlantic Region, New Blood, Old School, Praying Mantis, Rebel Yell, Vicious Valkyries, Zeus Power
GOLD FEDERATION: All Star, Battle Royal, Black Ops, Blood Bath, Chicago Legends, Classic Wrestling, Dark Angel, Extraordinary Power, Federated Suns, Masked Wrestling, Mystic Diva, Ninja Dojo, Texas Death, Union Express
DIAMOND FEDERATION: American Bodyslam, American Legion, Armed Forces, Bounty Hunter, Dark Days, Evil Clown, Femme Fatale, Fractured Jaw, Last Breath, Lights Out, Night Falcon, Noble Savage, Non-stop Action, Rajun Cajun, Xtreme Wrestling
BRONZE FEDERATION: Assassin's Order, Barbaric Warrior, Coffin Filler, Extreme Hardcore, Grim Reaper, Hot Streak, Iron Glove, Main Event, Men of Steel, Old Timer's, Raging Bull, Soul Asylum, Torture Chamber, Unknown Wrestler
JADE FEDERATION: Atomic Age, Born Tough, Iowa Corn, Jade Dragon, Just Incredible, Just Rasslin', Killer Soldiers, Lovely Ladies, Primal Rage, Psychotic Killer, Smoking Gun, South Central Wrestling, Super Hero, World Wrestling, Wrestlers Elite