HALL OF FAME INDUCTEES
A SCANDALOUS DOMINATION, INC. EVENT:
The Retirement of The Crucifier
After NEVER missing a cycle and garnering 1,037 wins, 443 losses, 122 draws, and 20 stars, SDI's enforcer has come to the conclusion that his extensive IWA career must now come to a close. He started off in the early '90s in the Gut Buster League, and then moved to the BBL for a short stint before leaving the wrestling business due to a family tragedy and his re-dedication to the worship of Death. This was not to be the end of his career, however, as SDI's former president and newest Hall-of-Famer, Platinum Chanel, convinced "Cruce" to return to the IWA in 2005, where he entered the HTL and immediately won its Eastern title. He later returned to the BBL for a phenomenal run, after which he competed in the SHL, APL, ABL, and finally the ASL. He is also the only man that CEO Jason P. Brass VII would allow to take over SDI in times of trouble and reform it into the Death and Darkness Worshippers (DADW) to topple the opposition. Throughout his time as one of the most feared competitors to ever enter the squared circle, The Crucifier has claimed one IWA-wide Atlantic Championship, three league titles, four TV titles, and 26 regional titles.
As he concludes his career, The Crucifier had the following remarks: "For almost 20 years, my heart has been filled with hatred, darkness, and rage. I left professional wrestling in 1992 after the death of my father/manager, Blood, and my brother were killed in a car accident. I have always been a Death worshipper, but when my only two family members died, I was lost, so I retreated into my worship for 13 years. For 13 years I lived alone with my sorrow and pain, until I received that call from President Platinum in 2005. Aside from a shot at superstardom once more, riches untold, and the chance to do what I love most in this world, the main thing Platinum offered me that made me return to the IWA was the promise of a new family. Scandalous Domination, Incorporated has been my family for 5 years, and I have done everything in my power to protect them fiercely as their enforcer. With SDI... I found purpose. Now that I have claimed my rightful place in the IWA Hall of Fame, the rage in my soul is lifted, because I now feel like I have made my father and brother proud. On top of that, my idol, the man that I patterned myself after, The Undertaker, spoke at my induction ceremony. There was nothing more that I could ask for. It has been an honor to give the fans an object of hatred for so many years. Thank you all! To all of my former competition... I will see you in your nightmares. To my SDI family: JPB7, Stone, Nairobi, and Platinum... you are the only people on Earth that I love. Now, it's time for 'The Night Terror' to continue my in-ring legacy at the D.A.D.W. School of Heel Wrestling Arts that will open in Egypt a year from now at the end of my sabbatical. The Monster lives! SDI or DIE!!!"
(Our congratulation go out to Sirree A. Raysor of North Carolina, who will receive an engraved plaque for managing The Crucifier's career so adeptly.)
WORLD HEAVYWEIGHT CHAMPION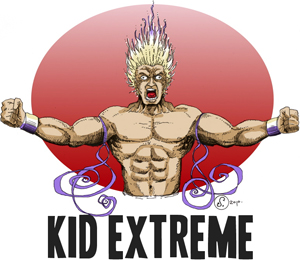 Chad LaBombard of Michigan earned his choice of either 100 free matches or a real wrestling belt and 50 free matches for managing Æ: Kid Extreme (BWL) to the top of the imaginary wrestling world! Kid's strategy was worth a perfect 501 points.
U.S. CHAMPION
This $60,000 prize was awarded to Æ: Shawn S. Spivey (FSL), who wrestles under the watchful eye of Anthony Rodriguez from Alabama! Anthony gets to decide between an engraved plaque and 25 free matches as his reward for helping Shawn successfully use point flow against CAST: "Pretty Boy" Preston Quinn (CFL), PSY: Mystery in the Mask (SAL), Æ: Mademan Sonny Fingers (OTL), and CAST: Mr. Hyde (NBL). Each grappler had a perfect total of 501 points!
KING OF THE RING
When we added up the values of the holds at positions 3, 4, 6, 9, 10, 11, 12, and 14 in the strategy of every battle royal winner, it became clear that previous Cruiserweight Champion Rich Von Bruiser (UEL) was the most deserving of this crown! He had an unbeatable 273-point KOTR total, and 500 points overall. His manager, Matt Fugate of Ohio, gets to choose either an engraved plaque or 25 free matches as his prize. Hold positions 1, 2, 5, 6, 7, 8, 13, and 15 were used to determine the regular league battle royal outcomes.
AMERICAN CHAMPION
Michael Drake of New York claimed this title as his own, using Æ: Starman (SAL) to win it! He will receive 10 free matches for formulating his wrestler's perfect 501-point strategy.
ASIATIC CHAMPION
Michael Drake of New York earned another 10 free matches by coaching Æ: Demented (CFL) to a perfect 501-pointer, which won him this title!
HARDCORE CHAMPION
CAST: Mr. Controversy (GRL) added $25,000 to his imaginary bank account by securing this championship. His manager, Keith A. Maple of Ohio, won 10 free matches for arming him with a perfect 501-point strategy!
The competition for this title will heat up even more next time, since we've just made the Black Ops League our newest Hardcore league!
METROPOLITAN CHAMPION
Keith A. Maple of Ohio held onto this coveted belt, keeping it under CAST initials for the third consecutive cycle! Mr. Controversy did the dirty work, using his perfect 501-pointer to great effect. This marks the fourth time in a row that the title was won by a grappler from the GRL, so Keith will receive 25 free matches instead of ten!
CRUISERWEIGHT CHAMPION
This $25,000 payday went to Outlaw Johnny Youngblood (AOL), who defeated the champions of our other rookie leagues with his Cobra Clutch Driver! His manager, Darryl Epps of Connecticut, will receive 10 free matches. Also with a 499-point total but losing by point flow was DDT: "Dirty Destroyer" Mark Blade (SCL).
FEDERATION PLAY-OFFS
Last time it was Mike Dorsett, and this cycle Sly Smith of West Virginia won two federation titles! He conquered the Iron Federation with Æ: Billy Ray (NGL), who was sporting a 499 total, and the Jade Federation with Æ: Beautiful Bobby Sax (THL), who had to edge out CTI: Jack "Dash" Bell of the KSL (both had 501 points). Nice work, Sly! CAST: Mean Mike Eaves (DIL) of Mississippi took home the Steel accolade with his perfect 501-pointer. In the Gold Federation, the 25 free matches went to Steven M. Shotliff of Minnesota, who coached CAST: Dudley Smiley (FSL) to a win over stablemate Michael "Tank" Schaffer (CWL). Each had 501 points. The Diamond strap ended up around the waist of DDT: Ali-Zee (FJL), who belongs to Bob Dippy of Pennsylvania. CTI: Ukantcmi (DDL) and Æ: The Executioner (XWL) had 500-pointers, as well, but lost by point flow. Eventual World Heavyweight Champion Kid Extreme also had to resort to point flow, turning back Æ: Starman (SAL), Æ: Demented (CFL), and CAST: Mr. Controversy (GRL) on his way to the Bronze Federation title. Each grappler had a total of 501 points.
NATIONAL CHAMPION, IWA-WIDE REGIONALS
CAST: "The Piercer" Peter Hurt (GRL) won this engraved plaque or 25 free matches for Anthony Dudick of New York with the aid of his 501-point strategy! He also picked up $20,000 for winning the Dixie title. The other regions were claimed by...
Atlantic:
LNR: Ravenous (SAL)
coached to a perfect 501 by Scott Lowe from none of your business
Central:
Sadistic Steve Supreme (OSL)
managed supremely and sadistically by Steve Gasperoni of California; had to use point flow against PSY: Cryptonomicon (SAL), since both had 501 points
Eastern:
PSY: The Crimson Knight (OTL)
owned by Mike Dorsett of New York; scored a perfect 501
Mountain:
Æ: Uncle Dave (DAL)
under contract to Tony Pesante of New York; had a 501-pointer
Northern:
Æ: Demolition Chaos (OTL)
managed to a 500 total by Michael Drake of New York
Pacific:
ILL: Caleb Roberts (BRL)
owned by Rob Bream of Pennsylvania; edged CTI members Mr. Desire (LBL) and "The Highlight" Mike Skyy (KKL), all with 500
Prairie:
Æ: Dominant Factor Rage (CFL)
property of Tim Zaegel from Virginia; outflowed Æ: Papa John (DAL), CTI: Hitman Jones (DIL), Æ: Demolition Assassin (OTL), and PSY: "River City Rambler" Adam Wright (SAL), all with 500 points
Southern:
CAST: Wonderful Wally Brown (GRL)
managed by the equally wonderful Mark Duchaine of Vermont; defeated both PSY: White Knight (OTL) and CTI: "Magnum" B.A. Thunder (MEL) by point flow, all with 500 totals
Western:
PSY: Quicksilver (SAL)
coached to victory by Jonathan Akers of Texas; had a perfect 501-pointer
LADIES' TITLES
Steven Lawson of Pennsylvania led his wrestler, Kijia Devereaux (MDL), all the way to the Ladies' World Championship after a point-flow showdown with CTI: "Wrestling Demon" Alcohol (VVL)! Each had 499 points. Steven wins his choice of an engraved plaque or 15 free matches, and Kijia received $40,000 in imaginary earnings. Great job! The $20,000 Ladies' U.S. title went to Hott Heather (VVL), who is currently under contract to Lee R. Beishline of Pennsylvania. Her strategy was worth 500 points. UL: Ashley and Lauren California (VVL) won the Ladies' Tag-team belts for R. Routh of Virginia, then Katie California joined them and helped them bring home the World Six-woman honors! Sharing the glory was the trio of PSY: Ruby Soho and Strawberry Fields, who belong to Jonathan Akers of Texas, and Lawless Lupe Monet (MDL), who is managed by Kyle Patrick Galvin of Washington. Both teams had 521 points. Ruby fought her way to the Queen of the Ring title, and Kyle also picked up a singles belt when Hazy Kayla Styles (MDL) used her 501-point strategy to win the Ladies' National Championship! The Ladies' U.S. Tag-team champions were CTI: "Just Plain Sexy" Samantha and "Amazingly Hot" Angela Sweetheart (VVL). They are coached from ringside by "The Ladies' Man" Nick Dendekker of Canada. Taking the U.S. Six-woman straps were Æ: "The Beat" Alexus Stewart, "Beautiful" Becky Hall, and "Heartbreak" Heather Hall (FFL). Tim Zaegel of Virginia provided their perfect 521-point team total.
WORLD TAG-TEAM CHAMPIONS
Michael Drake of New York traded up to the World Tag-team belts, winning them with Æ: Mike Vendetta and Dirk Drakler (DDL)! Each wrestler earned $50,000 in imaginary money, and Michael gets to decide if he wants an engraved plaque or 15 free matches. All 10 teams in the rankings had 516 points, and so did Æ: Mr. Overrated and Mr. Excellent (ZPL).
TOP 10 TAG-TEAMS
1.
Æ: Mike Vendetta & Dirk Drakler (DDL)
2.
Æ: Sly Smith & Bad News Blake (THL)
3.
UL: Tombstone Taurus & Morbid Minotaur (PML)
4.
CTI: Mr. Desire & Shadow Warrior (LBL)
UL: Vigilante Vaughn & Outlaw Orlando Thunder (FJL)
6.
Æ: Starman & the Canadian Crusher (SAL)
Æ: Demented & Altercation (CFL)
8.
CTI: Lex Lotus & Zacky Vengeance (NGL)
9.
CTI: Count "I Wanna Be A Werewolf" Dracula & Jason the Knife Juggler (SML)
10.
Æ: The Widowmaker & Gravedigger (XWL)
U.S. TAG-TEAM CHAMPIONS
These $20,000 purses went to PSY: Semiautomagic, who is managed by Jonathan Akers of Texas, and his stablemate, Mystery in the Mask (SAL), who belongs to John Durrani of Connecticut! Also with a 516-point team total but losing by point flow were PSY: Mr. Perfect Marcus Steel and the Shogun Yoshi Toronaga (DDL); CAST: Jimmy Rave and Lance "The Rocker" Archer (ASL); plus CAST: "The Human Cartoons" Madcap and Hutzpah (GRL).
WORLD SIX-MAN CHAMPIONS
Four teams had to share these titles due to an unbreakable draw. The trio of Jonathan Akers from Texas, John Durrani from Connecticut, and Kevin Lin from New Jersey worked together for a repeat win, this time taking the gold with Steve Hale, Citizen Kane, and Dexter (respectively). Mike Carver of Pennsylvania also kept his name on the belts, this round using his CTI members from the PKL. The CTI stablemates from the LBL belong to Joshua Haight of Wisconsin, and R. Routh of Virginia manages the winning UL team. The top six teams listed had 521 points. Tim Zaegel's "Wrestling Demon" Sex, the Mysterious Benefactor, and Graeme Stembridge remained on the list from last time, moving up from seventh to fifth place!
TOP 10 SIX-MAN TEAMS
1.
PSY: "Dumb Jock" Steve Hale, Citizen Kane, Dexter (NDL)
CTI: Hardcore Hank Halo, Mike Saint Carver, CTI/PHILLY: Big Bad Joe Blanton (PKL)
CTI: Mr. Desire, Shadow Warrior, the Crippler (LBL)
UL: Marcus Patriot, Alexander Da Vinci, Tim Thunder (OSL)
5.
Æ: "Wrestling Demon" Sex, the Mysterious Benefactor, Big Money Graeme Stembridge (AFL)
6.
Æ: CryptKeeper, the Showstopper, Gravedigger (XWL)
7.
PSY: El Toro Rojo, Christian Canto, Uno, Dos, Tres Nino (SGL)
8.
X-RAIDED: New Breed Warrior, Eliminator, Terminator (ASL)
9.
SW/IT: Mark the Satanic Brother, Marilyn the Satanic Mother, William the Satanic Father (PML)
10.
Æ: "Flyin'" Brian Jansen, Lex Stevenson, "Ravishing" Rick C. (BBL)
U.S. SIX-MAN CHAMPIONS
Sporting a perfect team total of 521 points, PSY: Weeds, "Have Mercy" Jesse Katsopolis, and Judas Travellar (NDL) handily won these titles for Kevin Lin of New Jersey, Jonathan Akers of Texas, and John Durrani of Connecticut, respectively. Excellent teamwork!
TOP 10 LEAGUES
The most active leagues for the March cycle, based on the number of matches, appear below. The New Blood League not only stayed at the top of the list, but also increased its lead! Managers in the Unknown Wrestler League won the two matches for $1 cycle, since their active wrestlers had the highest average strategy total out of all ten. The average of the previous winner, the MRL, was less than a point away.
| | | |
| --- | --- | --- |
| 1. | NBL (1,580 matches) | 494.850 |
| 2. | UWL (1,005 matches) | 495.873 |
| 3. | ASL (964 matches) | 493.729 |
| 4. | GRL (954 matches) | 493.556 |
| 5. | BOL (680 matches) | 491.622 |
| 6. | MRL (618 matches) | 495.014 |
| 7. | WSL (583 matches) | 490.634 |
| 8. | LLL (582 matches) | 486.238 |
| 9. | XPL (513 matches) | 491.204 |
| 10. | NAL (512 matches) | 493.269 |
TOP 20 STARS
(Inactive wrestlers were not included on this list.)
1.
CAST: Sinister Steve Stryker (CSL)
62
2.
CAST: Innovator of Arrogance Keith A. Maple (NAL)
CAST: Nightmare Sam Hell (NDL)
55
4.
LOD/NB: Danni Ashe (FFL)
54
5.
CORE: Chris Coldstone (JIL)
53
6.
CTI: Outlaw Tony Taylor (NFL)
52
7.
CAST: Buda von Blitzen (MIL)
Æ: Danny S. Spivey (FSL)
CAST: Lord of Illusions (JIL)
Steve "The Sandman" Sands (KKL)
CAST: Wonderful Wally Brown (GRL)
51
12.
CAST: Diesel Duddick (NSL)
UL: Duke Dangerous (ECL)
wWw: Mike White Lightning Moore (CWL)
wWw: Mike White Lightning Moore (QPL)
50
16.
CAST: "The Big Mofo" Anthony Dudick (CCL)
CTI: Loverboy Louie Lopez (NFL)
UL: Sammy Solar (OSL)
49
19.
PSY: The Illustrious Ishtar (JDL)
CAST: "LV's Grimiest" Keith Rosenthal (PKL)
CAST: Medieval Tymes (GRL)
CAST: Sir Gunther Kinderwacht (NAL)
PSY: Warchild (MEL)
48
LIST OF LEAGUES
IRON FEDERATION: Center Stage, Extreme Action, Extreme Existence, Hardcore Wrestling, Iron Man, Murder Incorporated, Mysterious Benefactor, Next Generation, Quick Pin, Rising Stars, Slumber-party Massacre, Wrestling Superstars, Xtreme Poison, Young Lions
STEEL FEDERATION: Absolute Pain, Burial Grounds, Complete Carnage, Devil Inside, Fighting Legends, Intense Impact, King Kong, Lost Souls, Mid-Atlantic Region, New Blood, Old School, Praying Mantis, Rebel Yell, Vicious Valkyries, Zeus Power
GOLD FEDERATION: All Star, Battle Royal, Black Ops, Blood Bath, Chicago Legends, Classic Wrestling, Dark Angel, Extraordinary Power, Federated Suns, Masked Wrestling, Mystic Diva, Ninja Dojo, Texas Death, Union Express
DIAMOND FEDERATION: American Bodyslam, American Legion, Armed Forces, Bounty Hunter, Dark Days, Evil Clown, Femme Fatale, Fractured Jaw, Last Breath, Lights Out, Night Falcon, Noble Savage, Non-stop Action, Rajun Cajun, Xtreme Wrestling
BRONZE FEDERATION: Assassin's Order, Barbaric Warrior, Coffin Filler, Extreme Hardcore, Grim Reaper, Hot Streak, Iron Glove, Main Event, Men of Steel, Old Timer's, Raging Bull, Soul Asylum, Torture Chamber, Unknown Wrestler
JADE FEDERATION: Atomic Age, Born Tough, Iowa Corn, Jade Dragon, Just Incredible, Just Rasslin', Killer Soldiers, Lovely Ladies, Primal Rage, Psychotic Killer, Smoking Gun, South Central Wrestling, Super Hero, World Wrestling, Wrestlers Elite