HALL OF FAME INDUCTEES
Considered by many to be one of the most mysterious and dark wrestlers to ever step foot into a wrestling ring, Morbid Terror paved a wave of destruction through league after league until finally arriving in the competitive ECL. Somewhat controversial, his mystique, along with the ability to make "things" happen due to his connection with evil forces, made him a wrestler not many looked forward to facing -- that, and the fact he stood close to 7' tall and was just over 300 pounds. Terror's true intentions were unknown, but he served the Circle of Tyrants for many years, unopposed.
Soon after arriving in the ECL, someone would challenge Terror's level of brutality... the wrestler known as Euronymous. The two giants had a bloody, brutal feud that lasted for quite some time, even when they became stablemates. However, the mutual respect they had for one another finally ended the bloodbath, and they formed the destructive tag-team known as "The Titans of Terror." The two monsters looked as though they could not be stopped until a well known tag-team, "The Twin Brothers of Destruction" Fire and Ice, openly challenged them. It was considered by many fans to be a dream match which did not disappoint. After it was clear that there were no true winners in this battle of giants, the four of them would form one of the most powerful forces known to the wrestling world: The Unholy Alliance. The group would last for some time before disbanding.
A six-time ECL League Champion, along with being a former ECL Universal Champion and Universal Tag-team Champion, Morbid Terror's success was evident, and he was considered by many wrestling critics to be one of the most dominant wrestlers in the long history of the ECL. His appearances in 2009 were few and far between, finally leading to his retirement in 2010. Congratulations are in order for his manager, David Mitchell of Canada, who led Terror to stats of 1,348-534-179, with $4,341,700 in imaginary earnings and 46 stars.
A Scandalous Domination, Inc. Event: The retirement of SDI: President Platinum Chanel. With a record of 1,008 wins, 443 losses, 76 draws, and 25 stars, it is now time for the IWA's best technical wrestler to finally hang up his boots. President Platinum began his wrestling career in 2005 in the HTL, but has since ventured into the ASL, BBL, APL, ABL, and returned to the ASL, where he wrestled his final match. In his breathtaking career, Mr. Chanel has held 5 league championships, 3 TV titles, and 21 regional straps. This success came from backbreaking work on his part, as this man had never missed a cycle!
On his entry into the IWA Hall of Fame, Platinum had the following to say: "This is an honor that I have worked my entire career to achieve, as finally my dedication to perfecting my craft has paid off. Platinum Chanel is a Hall-of-Famer now! It has been my pleasure to antagonize the fans as one of the most hated heels in the world for years, as I always made sure that you got your money's worth. In your heart of hearts, you all know you loved me... and I loved you all, too. When my manager/boss/friend Jason P. Brass VII discovered me, I was an international supermodel, and we crafted the persona of Platinum Chanel to near flawlessness -- the looks, the body, the skill, the women... none of it happened by accident. Now it's time for me to take the business acumen I gleaned from JPB7, and the $10 million retirement bonus he gave me, to start the Platinum-Banks Modeling Agency with my longtime friend, Tyra Banks. But, wrestling will always be in my heart. I've had some heated rivalries in my career with some awesome athletes like the Latino Loverboy, the Bullet Butch Starr, Midir, and even with my co-worker, Justin Drysdale, but whether I won or lost, no one ever had an easy time in the ring with 'The All-American Sex Symbol.' Now it's time to break out of the Platinum Chanel cocoon and allow Brayce Chandler to spread his wings, but I will still remain scandalous! SDI or DIE!"
Platinum's manager, Sirree A. Raysor of North Carolina, will receive an engraved plaque to commemorate the occasion.
WORLD HEAVYWEIGHT CHAMPION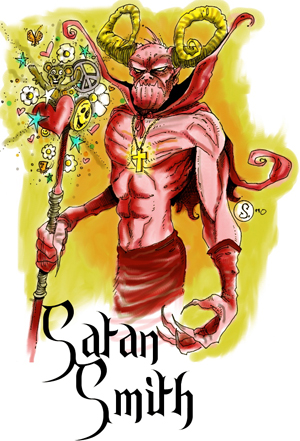 Thanks to his perfect 501-point strategy, SW/IT: Satan Smith (TCL) was able to overpower our other federation champions and claim the game's top prize. That means his manager, Matt Yunick of New York, gets to choose either 100 free matches or a real wrestling belt and 50 free matches! Nice job, Matt.
U.S. CHAMPION
CTI: Enforcer Shane Douglas (MEL) defeated all other league TV champions last cycle, and thus won either an engraved plaque or 25 free matches for manager Joshua Haight of Wisconsin! Shane's strategy was worth 501 points.
KING OF THE RING
It's true -- CTI: Kurt Angle (WWL) is our reigning King of the Ring! We found the sum of the values of hold positions 2, 4, 5, 6, 9, 12, 13, and 15 in each battle royal winner's strategy, and Kurt's 273-point total came out on top. His manager, John Gabriel of Pennsylvania, gets his choice of an engraved plaque or 25 free matches. Hold positions 1, 3, 4, 7, 8, 10, 11, and 14 were used to determine the outcomes of the regular league battle royals.
AMERICAN CHAMPION
World Heavyweight Champion SW/IT: Satan Smith (TCL) decided to take full advantage of his perfect 501-pointer, and used it to gain this $25,000 payday. That means his manager, Matt Yunick of New York, wins an additional 10 free matches!
ASIATIC CHAMPION
Garett Guzman of Kansas earned these 10 free matches by guiding PSY: Sickboy (MEL) to point flow victory over DDT: "Pretty Boy" Paul Pratt (CFL)! Each wrestler had a 501-point total.
HARDCORE CHAMPION
Winning this $25,000 title was CTI: Phil A. Delphia (GRL)! Mike Carver of Pennsylvania came up with his strategy, which was worth 500 points.
METROPOLITAN CHAMPION
CTI: Phil A. Delphia (GRL) won another 10 free matches for Mike Carver of Pennsylvania by picking up this belt with his 500-pointer. Good going, Mike!
CRUISERWEIGHT CHAMPION
Missing out on this $25,000 title by point flow last time only made California Executioner (BGL) that much more determined to win it, and manager Robert Coplin of California came through for him with a winning strategy! Robert won 10 free matches for his efforts. Losing by point flow this time were Shane Van Zane (UEL) and IT: "The Enforcer" Gabriel King of the BTL... Will they follow in California Executioner's footsteps?
FEDERATION PLAY-OFFS
Matt Yunick of New York picked up the Iron Federation's 25 free matches with SW/IT: Zagan (HWL). He also led Satan Smith to the Bronze Federation championship, which turned out to be just a stop on his way to the World Heavyweight honors! PSY: Sickboy (MEL), CTI: 2 Cigars (HSL), CTI: "The Monster" Tom Welling (MSL), DDT: "Pretty Boy" Paul Pratt (CFL), and CTI: Excellence (IGL) also had 501 points, but lost to Smith by point flow. Æ: Misster Money Shot (ZPL) used his 499-pointer to pocket the $40,000 Steel Federation purse. He's managed by Anthony Rodriguez of Alabama, who also took home the Gold Federation accolade when Æ: Travis T. Spivey (FSL) edged out DDT: "Two Finger" Jeff (DAL), NME: Tony "Two Times" Fioli (MPL), PSY: Protovangelian (BRL), Æ: Anthony S. Spivey (TDL), and CAST: Death Spike (NDL). In the Diamond Federation, Bob Dippy of Pennsylvania coached DDT: Kolo (FJL) to victory over stablemate "Mr. Dribble" Ace Diamond (NAL), PSY: Slash Craven (RCL), and CAST: The Atomic Playboy Aaron Idol (AFL). CTI: Kurt Angle (WWL) held onto his Jade Federation strap in a very impressive showing! His manager is John Gabriel of Pennsylvania.
NATIONAL CHAMPION, IWA-WIDE REGIONALS
Steven M. Shotliff of Minnesota won the choice between an engraved plaque and 25 free matches by leading CAST: Ned the Nerd (GRL) to the Pacific regional title, and then the National Championship! Ned was sporting a 501-pointer. Taking the remaining regional titles were...
Atlantic:
CTI: "Wrestling Demon" Money (GRL)
managed by Michael Cook of Kentucky; had to edge out AC: Friggadetti (HSL), both with 501
Central:
CTI: The Game MC (GRL)
owned by Mike Carver of Pennsylvania; had 500 points
Dixie:
PSY: Chief Lapulapu (MEL)
coached to a 501 by Garett Guzman of Kansas
Eastern:
PSY: Samurai Fonzie (RBL)
managed by Jim "Hellwig" Gabbard from Parts Unknown; had a 500 total
Mountain:
DC: Cyanide (OTL)
under contract to R. Routh of Virginia; had a 500
Northern:
PSY: Warchild (MEL)
scored another win for Garett Guzman; had a 501
Prairie:
DDT: Capital Apocalypse (GRL)
owned by Bob Dippy of Pennsylvania; had 499 points
Southern:
PSY: Classy Chris Domino (MEL)
managed by Mike Dorsett of New York; used point flow to defeat both MLS: "Southern Justice" Allan LeRoux (GRL) and CTI: The Top Hat (HSL), all with 499
Western:
CTI: Insane King (IGL)
accompanied to the ring by Joshua Haight of Wisconsin; edged stablemates "Regional Champion" Mike Cook (HSL) and "Wrestling Demon" Drugs (GRL), all with 499
LADIES' TITLES
NME: Tipsy Tammy Stevens (VVL) claimed the Ladies' World title, and won an engraved plaque or 15 free matches for Chad LaBombard of Michigan. Then she re-teamed with Carol the Bar Maid and Drunk Debbie Stevens, and the three were able to retain their World Six-woman straps! PSY: Tupelo Honey, Ruby Soho, and Strawberry Fields (MDL) also had a perfect 521-point team score, so Jonathan Akers of Texas got to share in the celebration. Tupelo and Strawberry then set their sights on the Ladies' tag belts, and won them by point flow over CAST: Katy Perry and Heavenly Body Heather Nova (LLL)! The Queen of the Ring crown went to NGAA: Rydia Stormer (MDL), who is managed by S. Daniel Stunes of Arkansas. NME: Tricia Horror (VVL) pinned Bodacious Bonnie (FFL) and won the $20,000 Ladies' U.S. title for manager Kevin Burr of Virginia. The Ladies' National Championship was awarded to AC: Dr. Petunia Venkman (FFL), who was managed to point flow victory over CTI: Dawn Marie Sexy D (FFL) by Austin Hauger of Indiana. Taking the Ladies' U.S. tag straps were VU: Demonic Divas #1 and #2 (LLL), who belong to Jonathan Riehle of Washington. The U.S. Six-woman titles went to DC: Ashley, Katie, and Lauren California (VVL). Their manager is R. Routh of Virginia.
WORLD TAG-TEAM CHAMPIONS
Three teams ended in an unbreakable draw during the play-offs for these titles. The Bloodshed Brawlers are owned by Michael Drake of New York. The Sixth Street Strangler belongs to Jonathan Akers of Texas, while the other three PSY members are managed by John Durrani of Connecticut. All 10 teams listed had 516 points, and so did SW/IT: Colin the Satanic Brother and Matt the Satanic Bagger (JIL).
TOP 10 TAG-TEAMS
1.
Æ: Bloodshed Brawlers M.D. & S.L. (TDL)
PSY: The Sixth Street Strangler & the Gunslinger Marshall Law (SAL)
PSY: Booze Brother #1 & Prince of Charisma and Warfare (CLL)
4.
PSY: Protovangelian & Vercyntorix (BRL)
5.
NME: "Living Legend" Larry Zbysko & "The Enforcer" Arn Anderson (WWL)
CAST: "The Cooler" Tony Knuckles & Assassin Beast Devilord (GRL)
7.
SW/IT: Lovely Lilith Lewis & Satan Smith (TCL)
8.
CAST: Minnesota Wrecking Crews I & III (IGL)
9.
PSY: Sickboy & Slow Moving Carabao (MEL)
10.
CTI: "The Ace" Cliff Lee & "The Raging Bull" Ryan Howard (PKL)
U.S. TAG-TEAM CHAMPIONS
Stephen Paulsen of Illinois paired his Æ: American Pride with Mr. CLL Xtreme (CLL), who is managed by Michael Drake of New York, and the team picked up these $20,000 titles! Also with 516 points but losing by point flow were PSY: Ghost of Magellan and Warchild (MEL), plus EPIC: Bas and Tony "King of Pancrase" Robinson (TCL).
WORLD SIX-MAN CHAMPIONS
After finishing in fourth place last time, Cryptonomicon and Semiautomagic (who belong to Jonathan Akers of Texas), along with Mystery in the Mask (who is managed by John Durrani of Connecticut), found themselves sharing these titles with eight other teams! Public Enemy #1 and Chris Chambers also belong to Durrani, while the Bourbon Legend added another win for Akers. Scott K. Olson of Nevada owns the PSY teams from the CCL and MRL. The PSY trio from the MEL wrestles for Garett Guzman of Kansas. Chad LaBombard of Michigan manages both NME teams. The Ninjas train under Sensei Rob Bream of Pennsylvania, and the LeBlancs belong to R. Routh of Virginia. All 10 teams in the standings had 521 points, and so did MMI: "The Money" Derrick Mathis, Brubaker, and the Coooolness (FSL); PSY: Dante's Inferno, Cardinal Sins, and Duke of Hell (DIL); PSY: Buck Naked, Hurley Cyrus, and Hurley Montana (NAL); PSY: Rasmuth, Cuthrak, and Ollis Rage (BRL); plus Æ: Masked President Clinton, Jimmy Harlem Butcher Hart, and Ric Legend (NFL).
TOP 10 SIX-MAN TEAMS
1.
PSY: Cryptonomicon, Semiautomagic, Mystery in the Mask (SAL)
PSY: Public Enemy #1, Electric Youth Chris Chambers, the Bourbon Legend (OSL)
PSY: Dark Angel, Dark Angel #2, the Juniorshot CKO (CCL)
PSY: "Buddy" Jack Black, Michael "PS" Baddstreet, Jerry "Boom Boom" Gordy (MRL)
PSY: Sickboy, Suedehead, Slow Moving Carabao (MEL)
NME: "The Thriller" Ric Heller, Electric Eric Embers, "The Rage" Rex Kage (RYL)
NME: Dragon Lee, Chang, Great Shinobi (PML)
ILL: Ninja Sai, Ninja Saber, Ninja Blade (NBL)
DC: Pinnacle Pete, Apache Aaron, Saguaro Shane LeBlanc (DDL)
10.
CTI: Uncle Ed the Toothless Vampire, Little Man from Another Place, Mike the One-Armed Man (LSL)
U.S. SIX-MAN CHAMPIONS
Four teams had to split these $20,000 purses. John Durrani of Connecticut teamed his PSY: The Gladiator Erik and Mad Fist Michael Chambers with Beale Street Brawler (OSL), who is managed by Jonathan Akers of Texas, and they grabbed a share. Garett Guzman of Kansas brought their stablemates, Ghost of Magellan, Warchild, and Chief Lapulapu (MEL), to the party. Scott K. Olson of Nevada's PSY: Sensei partnered with CTI: Murder Refrigerator and Murder Lawnmower (CCL), who are the property of Canada's own Sully Sullivan, to take a slice of the prize. CAST: Masked German Chainsaw, Murder Death Kill, and Sick Psychotic Freak (GRL) staked a claim for Mark Duchaine of Vermont. Also with a 521-point team total, but losing by point flow, were Æ: Travis T. Spivey, Danny S. Spivey, and Southern Slugga (FSL); CTI: The Thimble, the Hired Assassin Jerry Cook, and "Regional Champion" Mike Cook (HSL); plus PSY: Death, Famine, and War (PML).
TOP 10 LEAGUES
Based on the number of matches in each, the most active leagues for the January cycle are shown below. The Unknown Wrestler League managed to stay in first place for a third consecutive cycle, but it could feel the previous winner of the two matches for $1 cycle, the NBL, breathing down its neck. This time around, the special price was awarded to the managers in the Grim Reaper League, whose active wrestlers gave their league the best average strategy total! The NAL's average was exactly one point behind.
| | | |
| --- | --- | --- |
| 1. | UWL (1,236 matches) | 492.348 |
| 2. | NBL (1,158 matches) | 489.896 |
| 3. | ASL (892 matches) | 490.740 |
| 4. | GRL (834 matches) | 494.106 |
| 5. | BOL (698 matches) | 488.533 |
| 6. | XPL (619 matches) | 488.818 |
| 7. | NAL (492 matches) | 493.106 |
| 8. | RSL (490 matches) | 487.947 |
| 9. | PKL (487 matches) | 492.826 |
| 10. | LLL (478 matches) | 483.243 |
TOP 20 STARS
(Only active wrestlers were included on this list.)
1.
CAST: Sinister Steve Stryker (CSL)
61
2.
CAST: Innovator of Arrogance Keith A. Maple (NAL)
55
3.
CAST: Nightmare Sam Hell (NDL)
PAIN: Outlaw Tony Taylor (NFL)
52
5.
PSY: Chris Coldstone (JIL)
CAST: Lord of Illusions (JIL)
51
7.
CAST: Buda von Blitzen (MIL)
PAIN: Duke Dangerous (ECL)
wWw: Mike White Lightning Moore (CWL)
CAST: Wonderful Wally Brown (GRL)
50
11.
Æ: Danny S. Spivey (FSL)
4REICH: Diesel Duddick (NSL)
wWw: Mike White Lightning Moore (QPL)
49
14.
4REICH: "The Big Mofo" Anthony Dudick (NSL)
PAIN: Loverboy Louie Lopez (NFL)
PAIN/NSL: Sammy Solar (OSL)
Steve "The Sandman" Sands (KKL)
48
18.
PSY: Black Knight (IML)
CAST: Boxcutter (XPL)
CAST: "LV's Grimiest" Keith Rosenthal (PKL)
CAST: Razorblade Handgrenade (XPL)
CAST: Sir Gunther Kinderwacht (NAL)
PSY: Warchild (MEL)
47
LIST OF LEAGUES
IRON FEDERATION: Center Stage, Extreme Action, Extreme Existence, Hardcore Wrestling, Iron Man, Murder Incorporated, Mysterious Benefactor, Next Generation, Quick Pin, Rising Stars, Slumber-party Massacre, Wrestling Superstars, Xtreme Poison, Young Lions
STEEL FEDERATION: Absolute Pain, Burial Grounds, Complete Carnage, Devil Inside, Fighting Legends, Intense Impact, King Kong, Lost Souls, Mid-Atlantic Region, New Blood, Old School, Praying Mantis, Rebel Yell, Vicious Valkyries, Zeus Power
GOLD FEDERATION: All Star, Battle Royal, Black Ops, Blood Bath, Chicago Legends, Classic Wrestling, Dark Angel, Federated Suns, Majestic Property, Masked Wrestling, Mystic Diva, Ninja Dojo, Texas Death, Union Express
DIAMOND FEDERATION: American Bodyslam, American Legion, Armed Forces, Bounty Hunter, Dark Days, Evil Clown, Femme Fatale, Fractured Jaw, Last Breath, Lights Out, Night Falcon, Noble Savage, Non-stop Action, Rajun Cajun, Xtreme Wrestling
BRONZE FEDERATION: Assassin's Order, Barbaric Warrior, Coffin Filler, Extreme Hardcore, Grim Reaper, Hot Streak, Iron Glove, Main Event, Men of Steel, Old Timer's, Raging Bull, Soul Asylum, Torture Chamber, Unknown Wrestler
JADE FEDERATION: Atomic Age, Born Tough, Iowa Corn, Jade Dragon, Just Incredible, Just Rasslin', Killer Soldiers, Lovely Ladies, Psychotic Killer, Smoking Gun, South Central Wrestling, Super Hero, Thor's Hammer, World Wrestling, Wrestlers Elite