HALL OF FAME INDUCTEES
MC: Blake "Fox Heart" Morgan of Mississippi would like to announce his retirement and subsequent induction into the IWA Hall of Fame. His final stats were 2,075 wins, 890 losses, 29 draws, and $2,934,100 in imaginary earnings. His career began way back in December of 2003, in the Gold Federation's Young Lions League, and it ends in the Classic Wrestling League. He started the Morgan Crew (MC) in the Chicago Legends League at the end of 2006 and became a leader of the group. He felt that he was destined to become the IWA World Champion -- but in the end, instead of getting the gold around his waist, he will receive a plaque for all the obstacles that he's overcome. He based his career on all three of his idols: Bret "Hitman" Hart, Chris Jericho, and the late, great Owen Hart!
Also retiring this cycle is TBZ: Silver Badger (1,047-413-73, $2,170,200 *12). This 4-time IIL Universal Champion and 11-time Continental Champion also won many regionals in-league, and was edged for the U.S. title in the Summer cycle of 2006. His manager, Brick D. Hinkley of Canada, will receive an engraved plaque for doing such an outstanding job!
WORLD HEAVYWEIGHT CHAMPION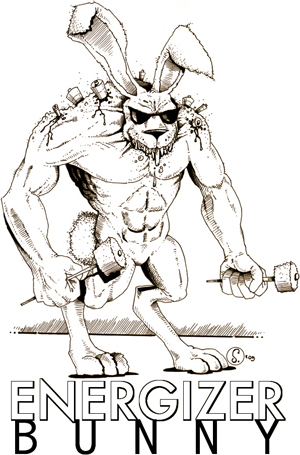 Tony Pesante of New York gets to choose either 100 free matches or a real wrestling belt and 50 free matches, since he coached (: Energizer Bunny (DAL) to victory over all our other league champions last cycle! He had a strategy worth 499 points.
U.S. CHAMPION
This engraved plaque (or 25 free matches) was awarded to Tony Pesante of New York, who armed (: Beautiful Barrack Obama (HWL) with a winning 499-point strategy. Nice going!
KING OF THE RING
Manager Nathan Fann of Tennessee guided RWS/AMP: Rowdy "FTW" Lee (CLL) to this crown, and earned an engraved plaque or 25 free matches for himself! Rowdy had the most points when we added the values of hold positions 1, 4, 6, 7, 10, 11, 12, and 15 in every league battle royal winner's strategy. 4REICH: Dead Celebrity Status (RYL), 4REICH: Nazi Low Rider #2 (HWL), and NGAA: Hawkeye Science (NGL) also had 272 points, but lost to Rowdy's 499 overall total when point flow came into play. Hold positions 2, 3, 5, 8, 9, 10, 13, and 14 were used for the regular battle royals.
AMERICAN CHAMPION
These 10 free matches went to Michael Cook of Kentucky, who formulated an unbeatable 499-point strategy for his wrestler, CGI/OSL: Graham "Cracker" Johnson (OSL)!
ASIATIC CHAMPION
After defeating our other Asiatic league champions last cycle, CTI/LEGIT: Lucky Cassidy quickly grabbed a can from his manager at ringside and spray painted a big, white St. Andrew's Cross over the title belt, proclaiming himself "the first-ever IWA Scottish Champion." The capacity crowd erupted, and both he and his manager had to be escorted to the locker room by arena security. Further details on this developing story will appear in your NBL bulletin as they become available.
HARDCORE CHAMPION
RWS: Drake Douglas (DDL) added $25,000 to his imaginary bank account when his 499 total won him this title. His manager, Michael Drake of New York, gets 10 free matches!
METROPOLITAN CHAMPION
"The first-ever IWA Scottish Champion" CTI/LEGIT: Lucky Cassidy won this coveted title for Joseph Cassidy of Scotland. The NBL was also home to this title winner back in the August cycle, so "The Loose Cannon" receives fifteen free matches instead of ten!
CRUISERWEIGHT CHAMPION
A1C Brian Johnson of the United States Air Force watched proudly from ringside as RFN: The Fallen (FLL) claimed this $25,000 title -- with a little help from his Inverted Crucifix Slam. For providing the 499-point strategy, Brian will receive 10 free matches!
FEDERATION PLAY-OFFS
Tony Pesante took home the Iron Federation title, thanks to (: The God of Destruction (MIL). Also with 499 points and managed by Tony was eventual World Heavyweight Champion Energizer Bunny, whose journey began at the Gold Federation contest. PAIN: Marty the Butcher (DIL) won the $40,000 Steel Federation purse by point flow over CGI/OSL: Graham "Cracker" Johnson (OSL), LOVE/PAIN: The Compulsive Scrub Pounder (CCL), and RFN: The Fallen (FLL). His manager, James Dermott, earned 25 free matches! Marty had a 499-pointer, and so did Diamond Federation winner RWS: Drake Douglas (DDL), whose contract is owned by Michael Drake. ACE: Pat Patterson's Ring Boy (BWL) kept the Bronze Federation strap in Howie Sandberg's possession. Howie also picked up the Jade honors, using ACE: "Wedding Crasher" Jeremy Grey (JRL), which means that all six of our federation titles are currently held by New Yorkers!
NATIONAL CHAMPION, IWA-WIDE REGIONALS
NME: "Living Legend" Larry Zbysko (WWL) used his 500-point strategy to win the Dixie region, then turned back all comers to claim the National title's engraved plaque or 25 free matches for manager Tim Zaegel of Virginia. Tim also took the Central title with NME: "The Enforcer" Arn Anderson (WWL). He had 499 points, as did Tim's NME/NSL: Blackjack Barry Gamble (OSL), who conquered the Northern region. NME: "The American Dream" Joey Lance (OTL) picked up the Prairie honors for "Mad Dog," and Tim's NME: "Ton Pere" Romeo DaVinci (OTL) won the Southern title by point flow over AHL: Finz the Shark (DIL) and TG: "Z-Man" Tom Zink (MRL)! The rest of the $20,000 prizes went to...
Atlantic:
RFK: The Devil (FLL)
managed by Billy Belote of Maryland; edged out NME: "151 Proof" A.Z. Bacardi (NBL), both with 499 points
Eastern:
FV: Riga Mortis (FLL)
owned by Dana R. Gamble of Ohio; defeated AXIS: Billy Ken Kid (ZPL) by point flow
Mountain:
Scott Wall (MRL)
under contract to Daniel Peton of New Jersey; edged WWW: Fireball (NAL), both with 499
Pacific:
PAIN: Stormin' Mormon Brock Von Wolf (APL)
coached to a 499 by BossCat Empson of Virginia
Western:
(: Daewoo Aoyagi (EEL)
led to a win over POP/666: Conan Caracas (MRL) by "The Mountie"
LADIES' TITLES
Raesta "Fire Scorpion" Guerrera (VVL) successfully defended her World Championship against all contenders, and in so doing added another $40,000 to her career winnings! Another engraved plaque or 15 free matches will be awarded to her very talented manager, Paul C. Low of Maryland (the C must stand for "Consistency"). Raesta's tag-team partner, "The Ugandan Goddess" Kamalana (VVL), ended up taking her Queen of the Ring title, but manager Ryan Oskar of Ohio told IWA reporters that there were no hard feelings. "The Slasher" Angela Baker (VVL) won the Ladies' U.S. honors with a 499-pointer. Also managed by Anthony Dudick of New York are reigning U.S. Six-woman champions 4REICH: "The Engineer Hunter" Eihi Shiina, "The Machine Girl" Minase Yashiro, and Michelle "The Invisible Woman" Yeoh (MDL)! The Ladies' National title went to WWW: Sable Blaze (FFL), who wrestles for TSgt. Luke Fletcher of the United States Air Force. She had a 499 total. Though they missed winning the Ladies' tag straps by point flow last time, CTI: Lady Sugar and Lady Spice (VVL) gave it another shot, and their persistence paid off for manager Scott Bernes of Ohio! NME: Carol the Bar Maid and Tipsy Tammy Stevens (VVL) scored U.S. tag gold for Chad LaBombard of Michigan, who then added Drunk Debbie Stevens to the team and helped the trio secure the World Six-woman championships. ACE: "Fatale" Dawn Destiny, "Ms. Inferno" Brook Blaze, and "The Ice Princess" Alexandria Snow (MDL) were edged out for the titles -- just like last time!
WORLD TAG-TEAM CHAMPIONS
These $50,000 prizes had to be split between Tim Zaegel of Virginia's WWL team and the THL pair belonging to Sly Smith of West Virginia. The top three tag-teams listed had a perfect total of 516 points.
TOP 10 TAG-TEAMS
1.
NME: "Living Legend" Larry Zbysko & "The Enforcer" Arn Anderson (WWL)
ACE: Bruiser Buck Dewitt & Hollywood Armstrong (THL)
3.
LPPF: Cousin Timothy & Aunt Mary (IIL)
4.
4REICH: Sack Masters LaMarr Woodley & James Harrison (MEL)
5.
LIGHTNING XPRESS: Bullet/Brave Bob Horner & White Lightning Tim Armstrong (MRL)
6.
EDGE: Protovangelian & Vercyntorix (BRL)
7.
CTI: Count "I Wanna Be A Werewolf" Dracula & the Vampire Plumber Xander Drainson (SML)
8.
TB: Ghetto Warrior & Detroit Crippler (SGL)
9.
NME: Male Supermodel Paumba & Prince of Pinfalls Peter Princeton (CFL)
10.
NRA: Albrecht Durer & Johannes Gutenberg (NAL)
U.S. TAG-TEAM CHAMPIONS
SITH: Darth Thanatos and Darth Bedlam (NSL) pocketed $20,000 apiece when Dennis Mooney of New Jersey led them to point flow victory over FFOW: Coco Hare and Kendo Nagakami (MRL), plus WWW: Fireball and Sir Gunther Kinderwacht (NAL). Great teamwork!
WORLD SIX-MAN CHAMPIONS
The battle for these belts ended with three teams in an unbreakable tie. Chase Garza and Steve Malone represented for Jonathan Akers of Texas, while Riot Savage joined them under orders from John Durrani of Connecticut. Tim Zaegel of Virginia showed up with his NME stable members, and the Wild West Warriors didn't disappoint Mark Duchaine of Vermont. The top six ranked teams had 521 points.
TOP 10 SIX-MAN TEAMS
1.
(: "South Texas Deathride" Chase Garza, "The Untouchable" Steve Malone, Riot the Renegade Savage (THL)
NME/NSL/UA: Mad Dog Tim Zaegel, NME/NSL: Blackjack Barry Gamble, Iceman Tony Phoenix (OSL)
wWw/DUCHAINE BROS: "Mad Dog" Maurice, Paul "The Butcher" Duchaine, wWw/666: Black Armas (MRL)
4.
CTI: The Thimble, Triple X Travis Tenacious, 2 Cigars (HSL)
5.
CTI/TT: Magnificent Mike Marshall, Fabulous Frank Fontana, Simply Sensational Shawn Superstar (QPL)
6.
(: The Green and the Red Societies, Lord of the Undead Society, Skull and Bones (SGL)
7.
NME: Dragon Lee, Chang, Great Shinobi (PML)
8.
VU: Scofield, Big Meat, Scorpion (XPL)
NME: Wildcard Ace Gamble, Harvester of Sorrow, Vic Rattlehead (SML)
CTI: Izzy Stradlin, Duff McKagan, Steven Adler (NGL)
U.S. SIX-MAN CHAMPIONS
Wanting to keep these titles a little longer, John Durrani of Connecticut and Jonathan Akers of Texas decided to team up again. This time Durrani brought (: Furious the King Flash and Lone Wolf Brimstone Savage to the party, and found Akers already there with their stablemate, Distorted Reality (THL). Together, their team strategy was worth a perfect 521 points!
TOP 10 LEAGUES
Based on the number of matches, the most active leagues for the September cycle appear below. The Grim Reaper League remained on top for a third straight cycle! The active wrestlers in the Non-stop Action League had the best average strategy total, so their managers can take two matches for $1 next cycle instead of paying our regular prices. The ECL's average was less than a point behind.
1.
GRL (1,173 matches)
489.696
2.
NBL (999 matches)
486.621
3.
ASL (957 matches)
489.830
4.
MRL (794 matches)
490.989
5.
NAL (703 matches)
491.871
6.
UEL (695 matches)
478.483
7.
SCL (609 matches)
467.269
8.
SGL (592 matches)
478.380
9.
ECL (543 matches)
LLL (543 matches)
491.013
489.769
TOP 20 STARS
(This list only includes active wrestlers.)
1.
WWW: Sinister Steve Stryker (CSL)
58
2.
EDGE: The Terminator (KKL)
53
3.
4REICH: Innovator of Arrogance Keith A. Maple (SGL)
52
4.
WWW: Buda von Blitzen (MIL)
50
5.
WWW: Nightmare Sam Hell (NDL)
WWW: Mike White Lightning Moore (CWL)
PAIN: Outlaw Tony Taylor (NFL)
EDGE: Chris Coldstone (JIL)
ACE: Danni Ashe (FFL)
49
10.
WWW: Mike White Lightning Moore (QPL)
WWW: Lord of Illusions (JIL)
COT: Duke Dangerous (ECL)
48
13.
WWW: Wonderful Wally Brown (IGL)
COT/NSL: Sammy Solar (OSL)
47
15.
Steve "The Sandman" Sands (KKL)
EDGE: Black Knight (IML)
46
17.
PAIN: Loverboy Louie Lopez (NFL)
EDGE: Johnny Cage (JIL)
EDGE/NME: Hooded Nightmare (OTL)
ACE: Road Warrior Beast (SHL)
ACE: Danny S. Spivey (HML)
4REICH: Diesel Duddick (NSL)
45
LIST OF LEAGUES
IRON FEDERATION: Center Stage, Extreme Action, Extreme Existence, Hardcore Wrestling, Iron Man, Murder Incorporated, Mysterious Benefactor, Next Generation, Quick Pin, Rising Stars, Slumber-party Massacre, Under Fire, Wrestling Superstars, Xtreme Poison
STEEL FEDERATION: Absolute Pain, Caribbean Coast, Devil Inside, Fighting Legends, Intense Impact, King Kong, Lost Souls, Mid-Atlantic Region, New Blood, Old School, Praying Mantis, Rebel Yell, Vicious Valkyries, Zeus Power
GOLD FEDERATION: All Star, Battle Royal, Black Ops, Blood Bath, Chicago Legends, Classic Wrestling, Dark Angel, Federated Suns, Hit Man, Majestic Property, Masked Wrestling, Mystic Diva, Ninja Dojo, Texas Death, Union Express
DIAMOND FEDERATION: American Bodyslam, American Legion, Armed Forces, Bounty Hunter, Dark Days, Evil Clown, Femme Fatale, Fractured Jaw, Last Breath, Lights Out, Night Falcon, Noble Savage, Non-stop Action, Rajun Cajun, Xtreme Wrestling
BRONZE FEDERATION: Barbaric Warrior, Coffin Filler, Extreme Hardcore, Grim Reaper, Hot Streak, Iron Glove, Main Event, Men of Steel, Old Timer's, Raging Bull, Soul Asylum, Torture Chamber, War Cry
JADE FEDERATION: Atomic Age, Iowa Corn, Jade Dragon, Just Incredible, Just Rasslin', Killer Soldiers, Lovely Ladies, Psychotic Killer, Smoking Gun, South Central Wrestling, Super Hero, Thor's Hammer, World Wrestling, Wrestlers Elite