HALL OF FAME INDUCTEES
David Hodnett of Virginia is entering three of his DAL wrestlers into our Hall of Fame this cycle! Wyldsoul (1,177-177-34, $1,615,600), Omen (1,112-131-35, $1,377,400), and Malakai (1,092-132-38, $1,392,600) must all bid a final farewell to friend and foe alike. Omen would particularly like to give a shout out to Arsenal, whom he will remember as his most fun opponent, and tell him that he enjoyed every match and every drop of blood that was spilled.
RWS/DFP: Duke Ken is also retiring this cycle. He built up a record of 2,191-414-54, and collected a total of $3,334,200 in imaginary earnings. His manager, Cody Behrend of Texas, will receive an engraved plaque for the occasion!
WORLD HEAVYWEIGHT CHAMPION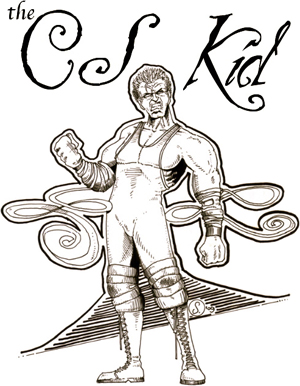 ACE: The CS Kid (UFL) had an unstoppable 501-pointer last cycle, which he rode all the way to the game's top prize! The conquest gives manager Howie Sandberg of New York his fourth World Heavyweight title this year, and he makes IWA history in the process, as it is an unprecedented achievement. The victory also marks Howie's eighth World singles title overall. Incredible!
U.S. CHAMPION
"The Smoking Pope" Garett Guzman of Kansas armed TV champion (: Salvador Dali Lama (ABL) with a perfect 501-point strategy, and he used it to win this $60,000 title! Garett now gets his choice of an engraved plaque or 25 free matches.
KING OF THE RING
Adding up the values of hold positions 4, 5, 6, 9, 10, 11, 13, and 15 in the strategy of each battle royal winner led us straight to EDGE/NME: IWA's Number 1 Talent (MWL) and his 278 total (he had 501 points when counting all 15 holds). His manager, Steven J. Deane of Nebraska, wins the choice between an engraved plaque and 25 free matches! The league battle royals used hold positions 1, 2, 3, 7, 8, 9, 12, and 14.
AMERICAN CHAMPION
EDGE/NME: Rogue Warrior: Talon (ASL) relied on his 500-pointer to keep this championship belt around his waist, but had to resort to using point flow to turn back CTI: Faithful Misery (AAL). Talon's manager, Steven J. Deane of Nebraska, adds 10 free matches to his winnings!
ASIATIC CHAMPION
This $25,000 purse was awarded to 4REICH: Chico Violencia (JDL), who had a perfect strategy total of 501 points! His manager, Anthony Dudick of New York, will receive 10 free matches for the win.
HARDCORE CHAMPION
Anthony Dudick of New York picked up another 10 free matches by winning this title with 4REICH: Nazi Low Rider #1 (HWL), who had a 500-pointer! CTI: Vendetta (TDL) lost by point flow.
METROPOLITAN CHAMPION
Steven J. Deane of Nebraska helped EDGE/NME: Rogue Warrior: Talon (ASL) retain possession of this coveted title by providing a 500-point strategy! Since this is the fourth time in 2009 that this champion has hailed from the ASL, Steven wins twenty-five free matches. Simply outstanding!
CRUISERWEIGHT CHAMPION
Reckless Rob Vicious (UEL) used his "Reckless Dive" to fend off Jason Litton of Louisiana's CFH: Allister Fiend (WEL), and earned himself $25,000 in imaginary money! He also won 10 free matches for his manager, Alan Pate of Illinois. Both wrestlers had 499-point strategies.
FEDERATION PLAY-OFFS
Although SYNDICATE: B.K. Brawler (RSL) also had a 501 total, the CS Kid was able to keep the Iron Federation title within the confines of Howie Sandberg's New York war room. However, he gladly traded it in once a World Heavyweight opportunity presented itself. Howie also claimed the Bronze Federation honors, thanks to ACE: "Killer Shark" Kyle Havok (BWL) and his 500-pointer. In the Steel Federation, Rob Bream of Pennsylvania gave ILL: Luscious Larry Lawrence (PML) an unbeatable 500-point strategy of his own. EDGE/NME: IWA's Number 1 Talent (MWL) took the Gold Federation belt home to Steven J. Deane of Nebraska, who formulated his 501 total. Dennis Mooney of New Jersey pocketed 25 free matches by coaching SITH: Darth Avatar (NSL) to a stellar 501 points in the Diamond Federation. The Jade accolade went to 4REICH: Chico Violencia (JDL), who received a 501-pointer from New Yorker Anthony Dudick.
NATIONAL CHAMPION, IWA-WIDE REGIONALS
Dennis Mooney of New Jersey won the honor of choosing either an engraved plaque or 25 free matches by leading SITH: Darth Thanatos (NSL) from victory over (: Ravishing Rene Descartes (NAL) in the Atlantic region all the way to the IWA National Championship! His strategy was worth 501 points. Going home with the other regional titles were...
Central:
HIGHER FLYERS: Graig Gagne (MRL)
managed by Steven M. Shotliff of Minnesota; had to edge out (: Amnesiac (ABL), both with 501
Dixie:
(: Samson the Wonder Lhasa (ABL)
owned by "The Smoking Pope" Garett Guzman of Kansas; had a perfect 501 total
Eastern:
(: "River City Rambler" Adam Wright (SAL)
under contract to Jonathan Akers of Texas; edged (: King Handsomeness (HWL) and EDGE: The Electric Current (MBL), all with 500
Mountain:
TM: "The Bloodline Itch" Poppa Clark (XPL)
coached to 500 points by Cevon Whitehead of North Carolina
Northern:
NME: Mr. Sandman (SHL)
managed by Chad LaBombard of Michigan; used point flow against both (: Bad Brian Gamble (CSL) and EL Parka (MIL), all with 500
Pacific:
4REICH: Tyler "The Hulk" Bingham (MBL)
received a 501 from Anthony Dudick of New York
Prairie:
CTI: Izzy Stradlin (NGL)
owned by Scott Bernes of Ohio; edged out WWW: The Hitman (CSL), CTI: Plague Dog Skumm (GRL), and (: Soda Popinski (MBL), all with 500
Southern:
ACE: "Charming" Chas Lawlor (UFL)
managed by Howie Sandberg of New York; edged CTI: Steven Adler (NGL) and ACE: "Russian Revolution" S.V. Zhitnik (CSL), all with 500
Western:
CTI: Duff McKagan (NGL)
grabbed another one for Scott Bernes; had to overpower CTI: Phil A. Delphia (GRL), both with 500
LADIES' TITLES
Manager Paul C. Low of Maryland guided Raesta "Fire Scorpion" Guerrera (VVL) to a perfect score of 501 points last cycle, and she used it to great advantage. First she dominated the Ladies' World title play-offs, then added the Queen of the Ring crown to her resume. Finally, she helped Ryan Oskar of Ohio's "The Ugandan Goddess" Kamalana to a win in the battle for the Ladies' U.S. tag straps! LB: Lotus the Ninja Girl (VVL) picked up the $20,000 Ladies' U.S. championship for Frank Snow of North Carolina. She had to use point flow to defeat Daniele Donato. 4REICH: Lilith the Satanic Princess (LLL) was successful in her bid for the Ladies' National accolade. Manager Matt Yunick of New York supplied her 499-pointer. The Ladies' Tag-team titles went to ACE: Daniele Donato and Ice Queen Shannon Dragoo (LLL), who were led to victory over CTI: Lady Sugar and Lady Spice (VVL) by Tony Robinson of Florida. Both teams had 516 points. Tony added Diane Henry to the mix, and his team returned with the U.S. Six-woman belts! Not content with only the men's titles, Kevin Burr of Virginia set his sights on the World Six-woman honors, and won them when NME: Erica Mayhem, Tricia Horror, and Becca Death (VVL) overcame ACE: "Fatale" Dawn Destiny, "Ms. Inferno" Brook Blaze, and "The Ice Princess" Alexandria Snow (MDL)! Both teams had a perfect total of 521 points.
WORLD TAG-TEAM CHAMPIONS
ACE: Road Agent Rick Anderson and VP of Talent Virgil Riley (MPL) earned $25,000 apiece when Howie Sandberg coached them to these titles. The other half of the prize money went to (: Papa John and Uncle Dave (DAL), who belong to fellow New Yorker Tony Pesante! The top eight teams in the standings had 516 points.
TOP 10 TAG-TEAMS
1.
ACE: Road Agent Rick Anderson & VP of Talent Virgil Riley (MPL)
(: Papa John & Uncle Dave (DAL)
3.
(: Bloody Barrister & Hydrocephaloid (LSL)
4.
(: "Bad Blood" Tre Brown & "El Jefe" Oscar Morales (CSL)
5.
LETTERMEN: Prescott & Roderick Steiner (MRL)
6.
NME: Private Hammer & Private Manson (DIL)
7.
NME: Falafel the Vegan Warrior & Issei Sagawa (BOL)
8.
ACE: Danny S. & Travis T. Spivey (HML)
9.
CTI: Driver & Mike Spinelli (MIL)
10.
NADC: Pain & Misery (BBL)
U.S. TAG-TEAM CHAMPIONS
Howie Sandberg of New York secured these tag straps, as well! His team of ACE: Hitman's Wrath and "The Original ACE****" Howie Sandberg (MPL) had to use point flow to eliminate CTI: "The Thief" Gambit and Weapon X (IIL) from contention. Both teams had 516 points.
WORLD SIX-MAN CHAMPIONS
NME: Private Hammer, Private Manson, and Private Payne (DIL) used military precision to gain this prize of an engraved plaque or 15 free matches for manager Kevin Burr of Virginia. Winning such a Major title is sure to earn them all promotions to Private First Class, if not Specialist! The top seven teams listed had 521 points. The team from the NDL was entered in the running for these belts due to an in-league mistake. Had it not been for this, the tenth team in the rankings would have been PAIN: Big Bad Texas Widowmaker, plus Texas Road Warriors Wolfgang and Hawkeye (CWL).
TOP 10 SIX-MAN TEAMS
1.
NME: Private Hammer, Private Manson, Private Payne (DIL)
2.
CTI/TSE: Wendigo, Demonscream, Machine (NBL)
3.
(: Mad Deltoid, Judas Travellar, Razor Jack Skaarj (NDL)
(: Xian Bloodbane, Electric Youth Chris Chambers, Beale Street Brawler (OSL)
5.
EDGE: The Murderer Marcus, Dynamic Damian, Devious Drake Disaster (RYL)
6.
(: Skyscraper J.D., 40 oz. Renegade Johnny, 64 oz. Outlaw J.P. Mustang (CLL)
7.
ACE: Anthony S., Billy B., Steve A. Spivey (TDL)
8.
COT: Skater Punks Grunge, Mosh, Thrasher (IGL)
COT/DOC: Dr. TNT Ronnie Jax, Dynamic Danny Dynamite, Vicious Vinnie Valentino (GRL)
10.
WWW/PAIN/XTREME: Greased Lightning Bucky Garrett, PAIN/XTREME: Pit Viper Buck "The Stud" Kidd, Superstar TNT Gunn (ECL)
U.S. SIX-MAN CHAMPIONS
John Durrani of Connecticut's team consisting of (: Thunder Lips, Youngblood Johnny Awesome, and the Punisher J.D. Storm (NBL) won these titles after being entered in the running due to an in-league error. They had to share the $20,000 purses with John's (: The Gladiator Erik and Mad Fist Michael Chambers, plus Comal County Blue (OSL), who is managed by Jonathan Akers of Texas. (: New Jack Terminator, Soul Glo Assassin, and Master Mang (LSL) also had 521 points, but were edged out.
TOP 10 LEAGUES
The most active leagues for the Dog Days cycle, going by the number of matches, are listed below. The Grim Reaper League held onto first place! Managers in the Xtreme Poison League can choose to take two matches for $1 next cycle, since their active wrestlers had the highest average strategy total out of all ten. The GRL placed second in the extremely competitive race.
| | | |
| --- | --- | --- |
| 1. | GRL (1,304 matches) | 494.108 |
| 2. | ASL (992 matches) | 492.000 |
| 3. | NBL (990 matches) | 490.812 |
| 4. | MRL (853 matches) | 493.159 |
| 5. | NAL (742 matches) | 493.342 |
| 6. | UEL (741 matches) | 475.486 |
| 7. | XPL (712 matches) | 494.778 |
| 8. | SCL (681 matches) | 425.758 |
| 9. | RSL (661 matches) | 491.943 |
| 10. | ECL (647 matches) | 493.365 |
TOP 20 MONEY HOLDERS
(Inactive wrestlers were not included on this list.)
| | | |
| --- | --- | --- |
| 1. | 4REICH: Innovator of Arrogance Keith A. Maple (XPL) | $13,786,200 |
| 2. | WWW: Mike White Lightning Moore (QPL) | $12,986,800 |
| 3. | "Mr. Powerful" Ken Lambeau (PKL) | $12,775,700 |
| 4. | DFI: American Freedom Fighter E.J. (SHL) | $11,824,338 |
| 5. | JL6: The Hooded Inmate (IML) | $11,806,900 |
| 6. | ACE: The Survivor (ECL) | $11,129,000 |
| 7. | ACE: King Krusher (EEL) | $10,465,700 |
| 8. | EDGE: Johnny Cage (JIL) | $10,172,038 |
| 9. | RENEGADE: Eric "The Cobra" Langdon (MIL) | $10,036,500 |
| 10. | WWW: High Stakes Chris Edwards (CFL) | $9,540,100 |
| 11. | WWW: Motorheadbanger Annihilator (JIL) | $8,939,100 |
| 12. | ROW: Special Agent B.M.F. (JIL) | $8,720,600 |
| 13. | 4REICH: Bloody Assault Jessica Lee Richards (LLL) | $8,578,500 |
| 14. | CC: Danny Boy O'Day (NSL) | $8,475,500 |
| 15. | ACE: Hitman Howie Sandberg (NAL) | $8,393,200 |
| 16. | PAIN: Manitou (AAL) | $8,138,000 |
| 17. | CC: Oliver Shagnasty (NSL) | $7,981,500 |
| 18. | 4REICH: Diesel Duddick (NSL) | $7,948,900 |
| 19. | PAIN: Cougar - WK (AAL) | $7,763,900 |
| 20. | S4C: Willie Wino (NSL) | $7,688,300 |
LIST OF LEAGUES
IRON FEDERATION: Center Stage, Extreme Action, Extreme Existence, Hardcore Wrestling, Iron Man, Murder Incorporated, Mysterious Benefactor, Next Generation, Quick Pin, Rising Stars, Slumber-party Massacre, Under Fire, Wrestling Superstars, Xtreme Poison
STEEL FEDERATION: Absolute Pain, Caribbean Coast, Devil Inside, Fighting Legends, Intense Impact, King Kong, Lost Souls, Mid-Atlantic Region, New Blood, Old School, Praying Mantis, Rebel Yell, Vicious Valkyries, Zeus Power
GOLD FEDERATION: All Star, Battle Royal, Black Ops, Blood Bath, Chicago Legends, Classic Wrestling, Dark Angel, Federated Suns, Hit Man, Majestic Property, Masked Wrestling, Mystic Diva, Ninja Dojo, Texas Death, Union Express
DIAMOND FEDERATION: American Bodyslam, American Legion, Armed Forces, Bounty Hunter, Dark Days, Evil Clown, Femme Fatale, Fractured Jaw, Last Breath, Lights Out, Night Falcon, Noble Savage, Non-stop Action, Rajun Cajun, Xtreme Wrestling
BRONZE FEDERATION: Barbaric Warrior, Coffin Filler, Extreme Hardcore, Grim Reaper, Hot Streak, Iron Glove, Jersey City Wrestling, Main Event, Men of Steel, Old Timer's, Raging Bull, Soul Asylum, Torture Chamber, War Cry
JADE FEDERATION: Atomic Age, Iron Cross, Jade Dragon, Just Incredible, Just Rasslin', Killer Soldiers, Lovely Ladies, Psychotic Killer, Smoking Gun, South Central Wrestling, Super Hero, Thor's Hammer, World Wrestling, Wrestlers Elite