HALL OF FAME INDUCTEES
RDI: The Bullet Butch Starr (1,282-610-158, $3,302,700 *18), arguably the most controversial man in the IWA, is retiring. Starr leaves the ASL with tag-team partner RDI: The Outlaw Billy Cash (1,067-514-94, $2,700,900 *14). The Dirty Duo has had many accomplishments, many titles, many wins, and many feuds. Starr, a former ASL league champion, leaves the game, but RDI will still go on for the time being. Starr would like to take the time to thank his fellow RDI stablemates: "They're truly family, and that is the root of our success." This statement is proven by RDI's #1 status in the ASL two years running! Also, he'd like to thank Eric Lindsay for being such a wonderful commissioner, along with Biff Backhand and Albion O'Maire for giving him the greatest feuds and friendships the IWA has ever seen. His manager, Butch Probst of Pennsylvania, will receive two engraved plaques.
Also retiring this cycle is COT: Crippler Chris Kovacs of the JIL. His final record stands at 1,336-467-166, with $3,540,300 in earnings and 38 stars. Managed by David Mitchell of Canada, fans will surely miss seeing his "Canadian Crossface" in action.
The fourth grappler to enter our Hall of Fame this time around is truly a Superstar -- in fact, that's his name! He finishes his wrestling career with a record of 1,118-574-4, and $1,487,200 in the bank. He began his tour of duty in February of 2006, in the Jade Federation's World Wrestling League, and it now ends in the Extreme Existence League of the Iron Federation. Superstar is the fifth wrestler to enter the IWA Hall of Fame from the team of Blake Morgan and Gary Cassibry, Sr., both of Mississippi!
From Samuel Shovel, Ace Reporter -- All the dirt that's fit to dig (he usually gets things totally wrong, but not this time): "The Klumpett girls (Daisy Mae and Lula Rae) have disappeared from not only the FFL, but the IWA, as well. Rumor has it that they were recently spotted on their farm up on Cripple Creek taking care of the livestock and shunning all reporters. They have hereby posted notice of their intent to retire from wrestling (in the ring) and return to their farm life. In LLL news, the three Russian girls Aneta, Natalya, and Svetlana were arrested by ICE agents over the Christmas week and were imprisoned in Baltimore, Maryland, on charges of 'overstaying their welcome' (work visa). The Federal Judge that heard the case offered to let them stay for another year, but they have elected to return to Russia and enjoy themselves, living off the fantastic income they made working in a capitalist nation, and do hereby announce their retirement." Congratulations to their manager, Paul C. Low of Maryland, who will receive five plaques!
WORLD HEAVYWEIGHT CHAMPION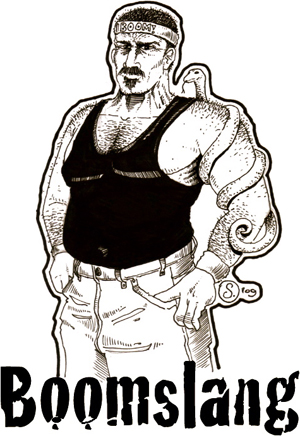 ILL: Boomslang (MSL) used his 500-pointer to win manager Patrick Eakin of Kansas the choice of 100 free matches or a real wrestling belt and 50 free matches!
U.S. CHAMPION
The engraved plaque or 25 free matches that go with this belt went home with John M. Kruse of Indiana, who coached ACE: Bodybag Bart Boldanza (EHL) to a 500-point strategy!
KING OF THE RING
Jonathan Akers of Texas kept this title in his possession, winning another engraved plaque or 25 free matches! This time, he used COT/CARTEL: Slash Craven (RCL), who had a very impressive 276-point total when we added the values of hold positions 1, 2, 4, 6, 10, 11, 13, and 14 in each battle royal winner's strategy. (His overall strategy was worth 499 points.) The battle royals were decided using hold positions 3, 5, 7, 8, 9, 10, 12, and 15. Upon receiving news of the win, Akers set a homemade pentagram on fire and, with a crooked smile, stated, "That's the final sacrifice I make for a dying Circle."
AMERICAN CHAMPION
Kevin DiFranco of New York earned 10 free matches by helping ACE: Brutal Brad Hammer (TCL) win this title back from Cronus with a 499-pointer -- outstanding! We hope that making the Chicago Legends League our newest American league will prevent those two from hogging this belt any further.
ASIATIC CHAMPION
ILL: Ice Man (CFL) pocketed $25,000 by defeating COT: Sgt. Stan Carlson (ECL) in the battle for this title. Manager Tim Zaegel of Virginia provided the 499-pointer.
HARDCORE CHAMPION
Bob Dippy of Pennsylvania coached ACE: Stone Cold Steve Austin (HWL) to a 500-point strategy, and it won him these 10 free matches! Nice job.
METROPOLITAN CHAMPION
Kevin Hurley of Canada managed (: Buck Naked (NAL) to the top of the champions from our six most active leagues. He gets fifteen free matches instead of ten, since the NAL was home to the Metropolitan Champion in the Spring cycle of this year! Buck's current record is 35-0-1, so -- at least for now -- "The Streak Continues."
CRUISERWEIGHT CHAMPION
Tai-Wand White of Texas won 10 free matches after devising an incredible 500-point strategy for his wrestler, Awesome Shaun Austin (AFL)! Shaun, who had already made a name for himself by creating the "Awesome Plex," received $25,000 for the victory.
FEDERATION PLAY-OFFS
Hardcore Champion ACE: Stone Cold Steve Austin (HWL) claimed the Iron Federation for owner Bob Dippy. Also with a 500 total and a Pennsylvanian manager, NW: Captain America (ZPL) won the Steel Federation title under the guidance of Wade Reinhard. The Gold Federation belt went home with ILL/LPPF: Anthony S. Spivey (TDL), who was managed to 499 points by Anthony Rodriguez of Alabama. Reigning Cruiserweight Champion Awesome Shaun Austin (AFL) gained another $40,000 in imaginary money by conquering the Diamond Federation with his 500-point strategy! His manager, Tai-Wand White of Texas, gets an additional 25 free matches. The Bronze strap went to eventual World Heavyweight Champion Boomslang. He had to edge out ACE: Pat Patterson's Ring Boy (BWL), since both had 500 points. ILL: Bret "Hitman" Hart (WWL) won the honors in the Jade Federation with the 499 total provided by John Gabriel of Pennsylvania.
NATIONAL CHAMPION, IWA-WIDE REGIONALS
The choice between an engraved plaque and 25 free matches for taking the National title was awarded to Mike Dorsett of New York, who coached EDGE: Sheik Hassent Ben Sober (DDL) to a perfect 501 total in the Eastern region! Winning the remaining titles were...
Atlantic:
ACE: Emerald Weapon (HWL)
Bob Dippy of Pennsylvania armed him with a 500
Central:
ACE: Captain Jeffrey T. Spaulding (GRL)
owned by Jason Sandberg of New York; edged out (: Willie Mays Hayes (NAL), both with 500
Dixie:
Wolverine (ASL)
managed to a 499 by Maurice Plante of Canada
Mountain:
ACE: Merchant of Agony (NAL)
under contract to Jason Sandberg; had a 499
Northern:
ILL/LPPF: Plague Dog Skumm (GRL)
owned by John Gabriel of Pennsylvania
Pacific:
Miss Ava Diamond (ZPL)
Edward Francis of Pennsylvania guided him to a win over EDGE: The Fell Knight (ABL), both with 499 points
Prairie:
X-RAIDED: New Breed Warrior (ASL)
Eric Lindsay had him pick up one last regional for Pennsylvania
Southern:
LPPF: Jack of All Trades Billy D. Frazier (MBL)
managed by Keith A. Maple of Ohio; had a 499
Western:
ACE: Gasoline (HSL)
used a 500-pointer supplied by Howie Sandberg of New York
LADIES' TITLES
Bodacious Bonnie (FFL) won the Ladies' World prize of an engraved plaque or 15 free matches for Ryan Oskar of Ohio. Ryan then took ownership of the $20,000 Ladies' U.S. strap when "The Ugandan Goddess" Kamalana (VVL) defeated COT: Sensational Sydney Reinhard (FFL) by point flow! Each had a 499 total. RWS: Queen of the Revolution (FFL) lived up to her name by winning the Queen of the Ring title for Michael Drake of New York. The Ladies' U.S. tag honors went to COT: Anne Thraxx and Princess Die (VVL). Manager Jonathan Akers of Texas added Lethal Lisa Taylor to the team, and their 521 total allowed them to take home the U.S. Six-woman straps. Then, Anne set off on her own and returned with the Ladies' National Championship! Darrell Brewer of Alabama's ILL: Powerpuff Girls Diane and Shae (VVL) lost by point flow, but decided to work together, and that teamwork ended up gaining them the Ladies' World Tag-team belts! RWS/MCM: Katy Perry and Heavenly Body Heather Nova (LLL) also had a perfect 516 team total, but were edged out. The World Six-woman titles went to ACE: "Fatale" Dawn Destiny, "Ms. Inferno" Brook Blaze, and "Mrs. MDL" Lady Survivor (MDL). Michael Giuliano of Connecticut led them to victory over ACE/420: White Widow, Blueberry Kush, and Purple Haze (VVL).
WORLD TAG-TEAM CHAMPIONS
ILL/OSL: Darrellmania and Darrell Reject (OSL), who belong to Darrell Brewer of Alabama, had to split these $50,000 prizes with Jason Sandberg of New York's ACE: Merchant of Agony and Dragon of Anarchy (NAL), since they ended in an unbreakable tie. All 10 teams in the rankings had 516 points, as did LPPF: The Reaper and Danny S. Spivey (HML), plus RWS/MCM: Ryan "the Flash Flood" Stevens and the Blaze Johnny Dundee (SGL).
TOP 10 TAG-TEAMS
1.
ILL/OSL: Darrellmania & Darrell Reject (OSL)
ACE: Merchant of Agony & Dragon of Anarchy (NAL)
3.
ILL: Demonic Dave & Ruthless Rick Riot (TDL)
4.
LPPF: King Extreme & Mr. Hardcore (GRL)
5.
EDGE/DEATHKNIGHT: Serial Killer & EDGE: White Knight (NDL)
6.
(: The Downside of Up & the Upside of Down (SAL)
7.
ACE: The Mantis & Iguanacon (MWL)
8.
LR: Rob "The Tiger" Dysinger & the Great Tiger (WSL)
9.
ILL: Hell Hounds #1 & #2 (UFL)
ILL: Blackest Hell & Spirit-N-Black (MBL)
U.S. TAG-TEAM CHAMPIONS
Howie Sandberg of New York directed ACE: Vitamin R and Unknown Soldier (CLL) to these titles, edging out ILL: Dominant Factor Corruption and Ice Man (CFL), plus stablemates Teddy KGB and Don Everest from the NAL and Howie's own War Room Controller and War Room Phone Guy from the GRL. All four teams had a 516 total!
WORLD SIX-MAN CHAMPIONS
Fifteen wrestlers received $10,000 apiece for these belts, since five teams ended in an unbreakable draw. Howie Sandberg of New York made the competition experience the Agony of defeat with his team from the CLL (who were ranked seventh last cycle!). Stablemate John M. Kruse of Indiana joined the party with his EHL grapplers. The trio from the XPL won a share for Darrell Brewer of Alabama. Mike Dorsett of New York coached his MBL team to the titles, and Jonathan Akers of Texas made sure his CSL wrestlers weren't left out. The top seven teams in the standings had 521 points.
TOP 10 SIX-MAN TEAMS
1.
ACE: "The Bad Guy" Brian, "Fully Loaded" Lance, "The Antagonist" Shaun Agony (CLL)
ACE: Bodybag Bart, Fantastic Freddie, Dazzlin' Danny Boldanza (EHL)
ILL: The Cerebral Assassin, G.W. "The Snake" Horton, Blade (XPL)
EDGE: "The Official IWA Historian" K. Hurley, the Crimson Knight, the Electric Current (MBL)
COT: Brian Chance, "Bad Blood" Tre Brown, "El Jefe" Oscar Morales (CSL)
6.
LPPF: The Soultaker, Death Dealer, Inferno (WCL)
7.
LPPF: King Extreme, Mr. Hardcore, Gangsta Dre (GRL)
8.
LR: Rob "The Tiger" Dysinger, Phoenix, Midknight (WSL)
9.
ILL: Johnny Rotten, Harvester of Sorrow, Mutant Dog Spot (SML)
ACE: "Mr. Dribble" Ace, "Blitzkrieg" Jack, "Riverboat Hustler" Deuce Diamond (NAL)
ACE: Hitman's Wrath, "The Original ACE****" Howie Sandberg, Road Agent Rick Anderson (MPL)
ACE: "High Roller" Hank Richards, "Mr. Cool" Quinn Clarkson, "Pimp Daddy" Paulie Lang (BBL)
U.S. SIX-MAN CHAMPIONS
These $20,000 purses had to be shared equally between ILL: Tommy Jones, James Smith, and Jim Johnson (MWL), managed by Gregg Boyle of Maryland, and The Low Rate Luchadores from the MBL (ACE: Minimum Wage Martinez, Freaking Rican Ramon, and Day Laborer Lopez), who literally belong to Bob Dippy of Pennsylvania. Also with a perfect 521 total but losing by point flow were ACE: Silhouette Serenade, "Awesome" Adam Agony, and A Joyless Euphoria (CLL); EDGE: The Vampire Lord Kal Zakath, the Dressed Wombat, and Sheik Hassent Ben Sober (DDL); plus EDGE: Rasmuth, Cuthrak, and Ollis Rage (BRL).
TOP 10 LEAGUES
The most active leagues for the June cycle are shown below, ranked by the number of matches. The Mid-Atlantic Region League overtook first place, ending the ASL's reign, but perhaps not for long -- the active wrestlers in the All Star League had the highest average strategy total, so its managers can choose to take two matches for $1 next cycle! The averages in the NBL, LLL, and GRL followed closely behind.
| | | |
| --- | --- | --- |
| 1. | MRL (1,289 matches) | 486.316 |
| 2. | GRL (1,120 matches) | 491.029 |
| 3. | ASL (1,099 matches) | 492.890 |
| 4. | NAL (805 matches) | 490.593 |
| 5. | XPL (800 matches) | 489.485 |
| 6. | NBL (733 matches) | 491.519 |
| 7. | FLL (732 matches) | 468.391 |
| 8. | SGL (640 matches) | 469.712 |
| 9. | LLL (637 matches) | 491.357 |
| 10. | UEL (632 matches) | 415.116 |
TOP 20 VICTORIES
(Only active wrestlers were included on this list.)
| | | |
| --- | --- | --- |
| 1. | "Mr. Powerful" Ken Lambeau (PKL) | 9,733-1,145-218 |
| 2. | WWW: Mike White Lightning Moore (QPL) | 5,529-1,481-270 |
| 3. | RENEGADE: Eric "The Cobra" Langdon (MIL) | 5,518-1,414-208 |
| 4. | Johnny "2 Kold" Koolakowski (LOL) | 5,415-167-36 |
| 5. | JL6: The Hooded Inmate (IML) | 5,115-957-188 |
| 6. | WWW: High Stakes Chris Edwards (CFL) | 4,958-1,179-113 |
| 7. | King Cobra (KKL) | 4,442-391-59 |
| 8. | S4C: Willie Wino (NSL) | 4,284-708-151 |
| 9. | PAIN: Dragon Tzu (AAL) | 4,258-1,803-346 |
| 10. | CC: Danny Boy O'Day (NSL) | 4,235-798-171 |
| 11. | CC: Oliver Shagnasty (NSL) | 4,207-824-141 |
| 12. | PAIN: Manitou (AAL) | 4,205-1,767-328 |
| 13. | Easy E. Joe Cool (CWL) | 4,135-669-139 |
| 14. | LPPF/RUNXT: Innovator of Arrogance Keith A. Maple (XPL) | 4,080-193-86 |
| 15. | PAIN: Cougar - WK (AAL) | 4,057-1,804-348 |
| 16. | WWW: Sir Gunther Kinderwacht (NAL) | 4,050-432-119 |
| 17. | ROW: Special Agent B.M.F. (JIL) | 3,930-1,101-266 |
| 18. | ACE: The Survivor (ECL) | 3,913-898-209 |
| 19. | Dimitrios the Traveler (ABL) | 3,847-484-189 |
| 20. | RWS: Mike Drake (ABL) | 3,681-417-136 |
LIST OF LEAGUES
IRON FEDERATION: Center Stage, Extreme Action, Extreme Existence, Hardcore Wrestling, Iron Man, Murder Incorporated, Mysterious Benefactor, Next Generation, Quick Pin, Rising Stars, Slumber-party Massacre, Under Fire, Wrestling Superstars, Xtreme Poison
STEEL FEDERATION: Absolute Pain, Caribbean Coast, Devil Inside, Fighting Legends, Intense Impact, King Kong, Lost Souls, Mid-Atlantic Region, New Blood, Old School, Praying Mantis, Rebel Yell, Vicious Valkyries, Zeus Power
GOLD FEDERATION: All Star, Battle Royal, Black Ops, Blood Bath, Chicago Legends, Classic Wrestling, Dark Angel, Federated Suns, Hit Man, Majestic Property, Masked Wrestling, Mystic Diva, Ninja Dojo, Texas Death, Union Express
DIAMOND FEDERATION: American Bodyslam, American Legion, Armed Forces, Bounty Hunter, Dark Days, Evil Clown, Femme Fatale, Fractured Jaw, Last Breath, Lights Out, Night Falcon, Noble Savage, Non-stop Action, Rajun Cajun, Xtreme Wrestling
BRONZE FEDERATION: Barbaric Warrior, Coffin Filler, Extreme Hardcore, Grim Reaper, Hot Streak, Iron Glove, Jersey City Wrestling, Main Event, Men of Steel, Old Timer's, Raging Bull, Soul Asylum, Torture Chamber, War Cry
JADE FEDERATION: Atomic Age, Iron Cross, Jade Dragon, Just Incredible, Just Rasslin', Killer Soldiers, Lovely Ladies, Psychotic Killer, Smoking Gun, Super Hero, Thor's Hammer, World Wrestling, Wrestlers Elite