HALL OF FAME INDUCTEES
Ronald Eric Lowe (formerly RWS: Bruce Fury of the BHL) has decided to call it quits after a lengthy wrestling career. This, of course, came when his brother's back was broken. He will live in Salem, Missouri, to help his brother Scott "Lonewolf" Lowe heal from back surgeries. He wants to thank his friends -- especially the members of RWS -- for a wonderful time.
(Ronnie was an IWA manager from the early '90s, who played as "The California Kidd" in the Core Reactor League with his brother Scott. He passed away in August of 1999. We are honored to have him included in our Hall of Fame.)
Saint Sinner, the final Northern Champion from the now defunct Unknown Wrestler League, has decided to hang up the boots. Under the guidance of Pennsylvania's own Lee R. Beishline, he compiled a record of 1,142-185-48, with 9 stars, while competing for the TDL, BBL, RCL, and UWL. Although he wasn't as successful as his HoF trainers, Ruthless Ray and the late Red Baron, Sinner enjoyed a solid career, grabbing many regional titles. In retirement, Sinner is unsure if he will try to get his bipolar disorder cured or run for public office on both tickets.
WORLD HEAVYWEIGHT CHAMPION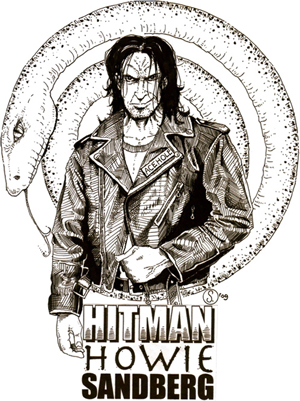 Howie Sandberg of New York made history by winning back-to-back World Singles titles (and his sixth overall)! Only a handful of managers have accomplished this feat. ACE: Hitman Howie Sandberg (NAL) won the coveted World title with a 500-pointer. This wrestler is the reigning NAL World, United States, and Emperor of Pain Champion. He is also the #1 NAL ranked wrestler of all-time. Absolutely phenomenal!
U.S. CHAMPION
Not wanting to stop with the World title, Howie Sandberg of New York led ACE: Total Anarchy (NFL) to the United States Championship with a 500-pointer. The win etches Howie's name in history, as he breaks the record for U.S. title conquests with an amazing seven.
KING OF THE RING
Zach Gargus of Parts Unknown won the choice between an engraved plaque and 25 free matches by coaching E$T: Rule Changer #9 (RCL) to this title! We totaled the values of hold positions 2, 3, 5, 6, 9, 12, 13, and 15 in every battle royal winner's strategy, and Zach's man came out on top. RENEGADE: Eric "The Cobra" Langdon (MIL) also had a 272-point KOTR total, but a slightly lower strategy overall. The league battle royals used hold positions 1, 2, 4, 7, 8, 10, 11, and 14.
AMERICAN CHAMPION
This $25,000 prize was awarded to LPPF: Extreme Street Hustle Tim A. Maple (XPL), and its accompanying 10 free matches went to Keith A. Maple of Ohio. Congratulations are in order for both!
ASIATIC CHAMPION
Scott K. Olson of Nevada managed EDGE: Young Gun Sean Masters (ECL) to victory over the champions of our other Asiatic leagues. He wins 10 free matches for the achievement!
HARDCORE CHAMPION
ACE/ST: "The Original" Ed Gein (PKL) picked up this $25,000 purse. His manager, Michael Giuliano of Connecticut, receives 10 free matches!
METROPOLITAN CHAMPION
ACE: Hitman Howie Sandberg (NAL) of New York used his 500-point strategy to defeat the league champions of the ASL, GRL, MRL, XPL, and ZPL. That officially makes him our first Metropolitan Champion! He receives 10 free matches for the win. If this title goes to another NAL wrestler in 2009, that winner will be awarded fifteen free matches!
CRUISERWEIGHT CHAMPION
EDGE: Nothing Man (DAL) added $25,000 to his bank account by winning this title! His manager is Scott K. Olson of Nevada, who will receive 10 free matches.
FEDERATION PLAY-OFFS
Michael Eaves of Mississippi collected the 40th federation title of his career when ACE: Michael Maddness (EEL) won the Iron strap! To celebrate this unprecedented occasion, we are allowing all EEL managers to take two matches for $1 next cycle. Way to go, Michael! The Steel Federation honors went to WWW/666: Black Armas (MRL), who is managed by Mark Duchaine of Vermont. ILL: Evil Minion #3 (CLL) claimed the Gold Federation title with a 499 total. His contract is owned by Jason P. Miller of Kansas. Before trading up to the World Heavyweight prize, "The Hitman" took out ILL: Satan (LOL) in the battle for the Diamond Federation. Both wrestlers had 500 points. LPPF: Ned the Nerd (GRL) won the Bronze Federation's $40,000 by edging out JL6: The Hooded Inmate (RBL). His manager, Steven M. Shotliff of Minnesota, earned 25 free matches! Hardcore Champion ACE/ST: "The Original" Ed Gein (PKL) secured the Jade Federation prize for Michael Giuliano of Connecticut.
NATIONAL CHAMPION, IWA-WIDE REGIONALS
Sly Smith of West Virginia can choose an engraved plaque or 25 free matches for leading ACE: Jimmy Harlem Butcher Hart (XWL) to our National title! Jimmy had to use point flow against EDGE: Young Gun Stan Steel (ECL) to win the Eastern region, since both had 499 points. Picking up $20,000 apiece for the remaining titles were...
Atlantic:
EDGE: Young Gun Clint Rhodes (ECL)
coached to a 499 by Scott K. Olson of Nevada
Central:
ACE: Bad News Blake (XWL)
owned by Sly Smith; edged out ACE: "Magnificent" Martin Brodeur (RCL), both with 499
Dixie:
ACE: League Closer #3 (XWL)
scored another title for Sly Smith
Mountain:
ILL: Jones Drew (FJL)
managed by Gregg Boyle of Maryland; edged both ACE: The Grand Imperial Wizard (NAL) and LPPF: Ted DiBiase (WWL)
Northern:
Victor Von Vicious (LOL)
wrestles under contract to W.P. Mills of Wisconsin
Pacific:
ACE: "The Blast" Brian Rolston (RCL)
owned by Howie Sandberg of New York
Prairie:
ILL/RAW: Disco King (RCL)
managed by Darrell Brewer of Alabama
Southern:
ACE: Hollywood Armstrong (NFL)
property of Sly Smith; defeated EDGE: Slash (NGL) by point flow
Western:
ACE: "The Captain" Jamie Langenbrunner (RCL)
earned another victory for Howie Sandberg
LADIES' TITLES
Michael Eaves of Mississippi won an engraved plaque or 15 free matches by managing ACE: Sensational Stacy Whiskey (MDL) to the Ladies' World title over MCM: Heavenly Body Heather Nova (LLL). Then he helped her win the Queen of the Ring title, as well! He also went home with the Ladies' U.S. tag straps, compliments of ACE: Nasty Nicole Richie and Pretty Paris Hilton (MDL). Darrell Brewer of Alabama won the $20,000 Ladies' U.S. championship with ILL: Powerpuff Girl Valerie (LLL). The Ladies' National Champion was WWW/VU: Sunny Blaze (MDL), who had to edge out MCM: Katy Perry (LLL). Her manager is TSgt. Luke Fletcher, who is currently defending our nation overseas. ACE: Diane Henry, Daniele Donato, and Ice Queen Shannon Dragoo (LLL) fought their way to World Six-woman glory. Tony Robinson of Florida manages the trio. Just like last time, a single LPPF manager conquered both the Ladies' World Tag-team and U.S. Six-woman championships! This time the victor was Keith A. Maple of Ohio, who used LPPF: Knockout Specialist Rebecca Streets and Bloody Assault Jessica Lee Richards (LLL) for the tag portion, then added Gothic Angel #2 to gain the U.S. six-woman straps.
WORLD TAG-TEAM CHAMPIONS
National Champion Jimmy Harlem Butcher Hart teamed with IWA-wide Dixie Champion League Closer #3 (XWL) to win these $50,000 purses for Sly Smith of West Virginia! Sly can choose either an engraved plaque or 15 free matches as his reward. The top three teams listed had 516 points.
TOP 10 TAG-TEAMS
1.
ACE: Jimmy Harlem Butcher Hart & League Closer #3 (XWL)
2.
EDGE: Uno, Dos, Tres Nino & Christian Canto (SGL)
3.
EDGE: Young Guns Sean Masters & Clint Rhodes (ECL)
4.
ILL: Some Dude & Plunder (WCL)
COT/BACON: Godless Messiah & Faithful Apostate (MEL)
6.
WWW: Bloodaxe & Mike White Lightning Moore (NAL)
7.
ACE: "Big Goal" Brian Gionta & "Playmaker" Patrik Elias (KKL)
8.
LPPF: Deathmatch Celebrities Rob Zombie & Charles Manson (PKL)
9.
EDGE: Mr. White & "The Extreme Icon" Hannibal (KSL)
10.
ACE: "Wedding Crashers" Jeremy Grey & John Beckwith (THL)
U.S. TAG-TEAM CHAMPIONS
Sly Smith of West Virginia also added these tag belts to his winnings last cycle! ACE: Bad News Blake and Bruiser Buck Dewitt (XWL) picked up the $20,000 prizes by edging out PAIN: Victory and Vengeance (JDL); EDGE: Axl Rose and Slash (NGL); ILL: Mr. Garrison and Pestilence (THL); LPPF: Dominant Factors Scourge and Plague (MBL); COT/WICKED KIN: Sammi Curr and Marky De Sade (JIL); plus stablemates Virus and Demolition (ECL).
WORLD SIX-MAN CHAMPIONS
Six teams ended in an unbreakable draw for these titles last cycle. The ILL team belongs to Darrell Brewer of Alabama, marking the fourth time in a row that he has shared these titles! Sly Smith of West Virginia kept his name on the belts with his ACE superstars from the THL, while Mike Dorsett of New York did the same using his EDGE crew from the DDL. The COT/BACON team cooked up a win for Shaun McPeck of Illinois. Jason Sandberg of New York added to his stable's already-overflowing trophy case with the help of his ACE team from the HWL. Finally, the EDGE trio from the ECL brought additional fame to manager Scott K. Olson of Nevada. The top eight teams in the standings had a 521 total!
TOP 10 SIX-MAN TEAMS
1.
ILL: 3, Guy, Trio (ICL)
ACE: Superstar Billy Green, Syrian Assassin, Sheik Yerbutti (THL)
EDGE: The Vampire Lord Kal Zakath, the Dressed Wombat, Sheik Hassent Ben Sober (DDL)
COT/BACON: Heartless Heathen, Hostile Heathen, Anghellic (MEL)
ACE: The Mammoth Mandingo, the Rockstar Eddie Powers, Real Man Jonah Falcon (HWL)
EDGE: Young Guns Stan Steel, Sean Masters, Clint Rhodes (ECL)
7.
RADS: "Doctor" Donny Royale, Mister Chad Champion, Superstar Sean Savant (IGL)
8.
ILL: Satan the Happy Bunny, Super Duper Richard Simmons, Skeletor (NFL)
9.
ACE: Hollywood Armstrong, Ric Legend, Awesome Sean MCA (SHL)
10.
COT: Donny "the Blazing" Flammingo, Johnny "the Jet" Flammingo, COT/DOC: Lone Wolf Xavier Sanchez (ALL)
U.S. SIX-MAN CHAMPIONS
Due to an in-league error, we entered ILL/RAW: The Terminator, Scorpion, and Abbigail Whistler (WCL) in the running for these titles. Darrell Brewer of Alabama's team fought to an unbreakable tie with ACE: "The Captain" Jamie Langenbrunner, "Magnificent" Martin Brodeur, and "MVP" Zach Parise (RCL), so Darrell ended up sharing the belts with Howie Sandberg of New York!
TOP 10 LEAGUES
Based on the number of matches, the most active leagues for the March cycle appear below. For the third straight cycle, the All Star League topped the chart! Managers in the Xtreme Poison League can take two matches for $1 next cycle, because their active wrestlers had the highest average strategy total! The MBL and JIL followed closely behind.
| | | |
| --- | --- | --- |
| 1. | ASL (1,298 matches) | 487.068 |
| 2. | MRL (1,186 matches) | 483.842 |
| 3. | GRL (963 matches) | 484.935 |
| 4. | NAL (717 matches) | 471.519 |
| 5. | XPL (709 matches) | 489.328 |
| 6. | ZPL (658 matches) | 484.025 |
| 7. | TCL (636 matches) | 487.909 |
| 8. | JIL (613 matches) | 488.659 |
| 9. | MBL (538 matches) | 488.806 |
| 10. | NBL (523 matches) | 471.239 |
TOP 20 STARS
(This list only includes active wrestlers.)
1.
WWW: Sinister Steve Stryker (CSL)
55
2.
LPPF: Innovator of Arrogance Keith A. Maple (XPL)
50
3.
EDGE: Chris Coldstone (JIL)
EDGE: The Terminator (CSL)
48
5.
WWW: Nightmare Sam Hell (NDL)
47
6.
WWW: Buda von Blitzen (MIL)
WWW: Mike White Lightning Moore (CWL)
PAIN: Outlaw Tony Taylor (NFL)
46
9.
ACE: Danni Ashe (FFL)
ACE: New Breed Destroyer (ASL)
ILL: The Smooth One Jeff Manning (JIL)
45
12.
LPPF: Bloody Assault Jessica Lee Richards (LLL)
WWW: Lord of Illusions (JIL)
44
14.
EDGE: Johnny Cage (JIL)
WWW: Mike White Lightning Moore (QPL)
COT: Sammy Solar (DIL)
WWW: Wonderful Wally Brown (IGL)
43
18.
EDGE: Hooded Nightmare (OTL)
EDGE: The Illustrious Ishtar (JDL)
PAIN: Loverboy Louie Lopez (NFL)
WWW: Masked Stormtrooper Lightning (BBL)
EDGE: Ollis Rage (JDL)
ACE: Road Warrior Beast (SHL)
42
LIST OF LEAGUES
IRON FEDERATION: Center Stage, Extreme Existence, Hardcore Wrestling, Iron Man, Murder Incorporated, Mysterious Benefactor, Next Generation, Quick Pin, Rising Stars, Slumber-party Massacre, Under Fire, Wrestling Superstars, Xtreme Poison
STEEL FEDERATION: Absolute Pain, Caribbean Coast, Devil Inside, Fighting Legends, Intense Impact, King Kong, Lost Souls, Mid-Atlantic Region, New Blood, Old School, Praying Mantis, Rebel Yell, Vicious Valkyries, Zeus Power
GOLD FEDERATION: All Star, Battle Royal, Black Ops, Blood Bath, Chicago Legends, Classic Wrestling, Dark Angel, Federated Suns, Hit Man, Majestic Property, Masked Wrestling, Mystic Diva, Ninja Dojo, Texas Death
DIAMOND FEDERATION: American Bodyslam, American Legion, Armed Forces, Bounty Hunter, Dark Days, Evil Clown, Femme Fatale, Fractured Jaw, Last Breath, Lights Out, Night Falcon, Noble Savage, Non-stop Action, Rajun Cajun, Xtreme Wrestling
BRONZE FEDERATION: Barbaric Warrior, Coffin Filler, Extreme Hardcore, Grim Reaper, Hot Streak, Iron Glove, Jersey City Wrestling, Main Event, Men of Steel, Old Timer's, Raging Bull, Soul Asylum, Torture Chamber, War Cry
JADE FEDERATION: Atomic Age, Iron Cross, Jade Dragon, Just Incredible, Just Rasslin', Killer Soldiers, Lovely Ladies, Psychotic Killer, Smoking Gun, Super Hero, Thor's Hammer, World Wrestling, Wrestlers Elite