JOHNNY B SAYS
Next cycle, the six most active leagues will see their champions battle it out to determine the first-ever Metropolitan Champion of the IWA! This brand new title rewards those brave enough to face the toughest competition our game has to offer. The manager of the winning wrestler receives 10 free matches, but there's a twist: each time the champion hails from a league which was home to a previous Metropolitan Champion during that same year, we'll increase his or her prize by five matches. In other words, if a wrestler from the XXL takes the belt, and a former winner that year was also from the XXL, the prize will be fifteen free matches instead of ten. If the XXL is again home to the champion during that same year, the winning manager will be awarded twenty free matches! If you are the first member of your league to win the belt that year, you will receive 10 matches. This system will reward leagues for consistent activity, and managers for consistent performance.
You have your favorite league -- now build it up to be one of the best! Remember that your league can't compete if you don't help make it as active as it can possibly be. Start some feuds, challenge your rival to a series, and get your friends involved! The more competition you bring to your league, the more fun you will have; this new title is the icing on the cake.
Who will go down in history as our very first Metropolitan Champion? Stay tuned!
HALL OF FAME INDUCTEES
Abdullah Al Cruel, a name dared not even whispered in the halls of the MRL in fear of giving the beast more power, is, sadly, retiring. Although hated and feared, the Bloodstorm was also respected in the Mid-Atlantic. After maiming, mauling, and nearly killing Chris Mecca in their bloody feuds, Abdullah (1,022-55-16, $2,309,500 *27) quickly became known simply as Black Death. Using his Fork to carve the foreheads of his opponents, Al Cruel earned the spot as the MRL's first two-time league champ, as well as many other championships in his red rage, such as the MRL's "Most Hated" award in 2005. He was unanimously selected into the MRL Hall of Fame in 2006. Known as the Mad Man from the Sudan, Abdullah Al Cruel was offered a movie role as "King Hippo" in a film based on the popular NES game "Mike Tyson's Punch Out." With the earnings from the movie and the millions he earned dismembering wrestlers, Abdullah plans to open Abdullah's Chicken & Waffles in hopes of giving a little something back to the loved ones of all the men he disfigured. His infamous Fork, however, he is leaving to the golden god of the MRL, Armas Archuleta, in hopes that it may help him see the hearts of wicked men. The Fork -- forged in Hell, nicknamed "Lucifer's Tongue," and stained with the blood of the innocent -- should be a constant reminder that bad stuff happens to even the best of people; it should hopefully keep Armas aware and unrelaxed in his role of hero to the millions. With that, Abdullah Al Cruel enters the Hall of Fame as the grim chainsaw hand of the IWA.
Ezekiel 25:17 -- "The path of the righteous man is beset on all sides with the iniquities of the selfish and the tyranny of evil men. Blessed is he who in the name of charity and good will shepherds the weak through the valley of darkness, for he is truly his brother's keeper and the finder of lost children. And I will strike down upon those with great vengeance and with furious anger those who attempt to poison and destroy my brothers. And you will know that my name is the Lord when I lay my vengeance upon thee." Abdullah Al Cruel will forever in the hearts of the Mid-Atlantic be remembered as "the iniquities of the selfish and the tyranny of evil men." His manager, Jim Gabbard of Ohio, will receive a plaque to commemorate this somber occasion.
S4C: Bluebottle is taking his rightful place in our Hall of Fame this cycle. This All Star League grappler truly was an all-star. He amassed a record of 3,157-1,222-213, with $5,227,200 in the bank and 18 stars. His most recent major triumph was winning the IWA-wide Pacific region in the Winter cycle of 2007. Bluebottle will continue to delight fans when he joins the Blingling Bros. Circus in the near future. His talented manager, Paul C. Low of Maryland, has earned an engraved plaque by leading his athlete to the top!
William C. Barrett of West Virginia hereby announces the retirement of BH: Darius Savage, son of the founding father of The Brotherhood. After leaving his career in Japan behind to help his father build The Brotherhood, Darius began his IWA career in the DZL. That stint was followed by a short run in the YCL, and he now ends his tour of duty in the MIL. Although he won several titles throughout his journey, his most noted accomplishment came two cycles ago when he won the Iron Federation Championship. The Brotherhood will surely miss his presence as Darius retires with a record of 1,201-275-41, 22 stars, and earnings of $2,976,300.
After suffering a broken back at the hands of his half-brother-turned-arch-rival RWS/HOH: "Trillion Dollar Man" J. Hixenbaugh at the Bruise Cruise PPV, RWS: Scott "Lonewolf" Lowe of the DDL (1,047-455-72, $920,400 *14) must retire. He has no hard feelings towards his half brother, and wishes him the best. His achievements were several league, TV, and regional championships, but he was most recognized for his IWA World Tag and World Six-man titles. He will live out the rest of his life in his luxurious home in Salem, Missouri.
Our final retiree this cycle is also managed by Scott Lowe. Wrestling for 10 years, both in singles action and alongside his brother Mike, RWS: "Sensational" Robert Gold (BHL) has decided to retire so he can concentrate on running the family business, Gold's Gym. Leaving with stats of 1,031-448-72, $1,955,500 in earnings, and 13 stars, Robert's farewell message was, "I would like to thank my fellow stablemates in the best stable -- RWS -- especially Mike Drake. And to all the haters... you know where you can go!"
UWL CHAMPION
We can now unmask the final champion of the Unknown Wrestler League. It turned out to be none other than ILL: Polish Power Jakub Pavlik of the JIL! Jakub is managed by "The Smooth One" Jeff Manning of Ohio, who wins his choice of a real championship belt or 50 free matches. We hope everyone enjoyed competing in this unique league!
WORLD HEAVYWEIGHT CHAMPION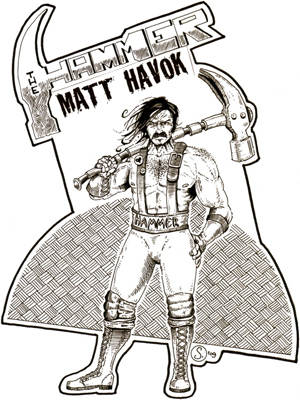 ACE: "The Hammer" Matt Havok (BWL) used a 501-point strategy with perfect point flow to win the prestigious IWA World title. Havok's victory earned legendary manager Howie Sandberg of New York his fifth World Singles Championship. An IWA reporter caught up with Howie and got this quote: "We love to toy with the competition. ACE holds the hammer, and when we decide to use it, it's lights out for all stables and their wrestlers." Congratulations, Howie!
U.S. CHAMPION
Mark Duchaine of Vermont earned his choice of an engraved plaque or 25 free matches by coaching WWW/666: Killer Karl Kowalski (MRL) to a point flow win over ILL: Chang (RYL), ILL: Mr. Hardcore (GRL), PAIN: Rafael Van der Vaart (APL), and Steve "The Sandman" Sands (KKL)! Each wrestler had 501 points.
KING OF THE RING
When we added up the values of hold positions 2, 3, 4, 7, 8, 11, 13, and 14 in the strategy of every league battle royal winner, RWS: Junkyard Bill (APL) and his 272-pointer stood out. His manager, Bill Bagwell of Washington, won an engraved plaque or 25 free matches! ILL: The Soultaker (WCL) also had a 501 overall and an identical KOTR total, but lost by point flow. PAIN: Cpl. Punishment (LBL), ACE: Crisis (ICL), and Wyldsoul (DAL) scored 272 points apiece, but couldn't match Bill's perfect 501. The hold positions used for the regular battle royals were 1, 5, 6, 8, 9, 10, 12, and 15.
AMERICAN CHAMPION
Howie Sandberg of New York added 10 free matches to his winnings last time by managing ACE: "The Reverend" Richard Wright (OSL) first to a perfect 501 total, and then to this title!
ASIATIC CHAMPION
ILL: Luscious Larry Lawrence (PML) pocketed a cool $25,000 by claiming this championship with his 501-point strategy. His manager, Rob Bream of Pennsylvania, will receive 10 free matches!
HARDCORE CHAMPION
The 10 free matches that accompany this title went to Gregg Boyle of Maryland, who armed ILL: Amarie (RYL) with a perfect total of 501 points. Way to go, Gregg!
CRUISERWEIGHT CHAMPION
ACE: Big Chonch (RBL) successfully used his patented "Chonch Chop" to defeat our other rookie league champions and gain this $25,000 payday. Jeremy Smith of Indiana owns his contract, so he will be the proud recipient of 10 free matches!
FEDERATION PLAY-OFFS
The Iron Federation title went to ACE: The Final Boss (HWL), who is managed by Bob Dippy of Pennsylvania. He had 500 points. Bill Bagwell of Washington state claimed the Steel Federation's 25 free matches with King of the Ring RWS: Junkyard Bill (APL). He had to use point flow to win against ACE: "The Reverend" Richard Wright (OSL), ACE: Persuasive Pat Patterson (KKL), CC: Mr. Twister (ZPL), ILL: Luscious Larry Lawrence (PML), ILL: Amarie (RYL), and the previous World Heavyweight Champion, Armas Archuleta (MRL), since each had a 501 total. Just like last cycle, the Gold Federation honors were split evenly between two wrestlers who are owned by the same manager, and each had 499 points! This time the pair was LPPF: "Pretty Boy" Preston Quinn (NDL) and LPPF: "Caged Xplosion" Randy Couture (HML), who belong to Keith A. Maple of Ohio. The Diamond Federation champion was LPPF: "NY's Hardest" Eric Dudick (NSL), who is owned by Anthony Dudick of New York. ILL stablemates Kenny (LOL) and Kenny Bates (NFL) also had 501 points, but were edged out. Matt Havok began his journey to the World Heavyweight title by taking the Bronze Federation over ILL members Little Louis (OTL), the Soultaker (WCL), and Orion Supreme (HSL). All four had 501-point strategies! In the Jade Federation, ILL/NVME: Triple H (WWL) took the prize for manager Grant Matthews of Canada.
NATIONAL CHAMPION, IWA-WIDE REGIONALS
PAIN: Erich the Albino with a Jet Black Mustache (ECL) won the Pacific region, then edged out the other regional champions to claim this engraved plaque or 25 free matches for John Gabriel of Pennsylvania. All the wrestlers listed in this section had 501 points! The other regions went to...
Atlantic:
PUSS-N-BRUTE: Percival "Puss" Garland (MRL)
managed by James E. Corvette from the offices of the MRL; used point flow to defeat CC: Lightning Jay (ZPL), WWW: Radical Rick Headstone (CWL), PAIN: Alpha Male Deforest Montgomery (APL), EDGE: Vampire Lestat (JCL), and SW: Rosier Ryan (TCL)
Central:
VU: Shinky (ZPL)
owned by Nelson Carvalho of Massachusetts; edged both Fred DiBiase (MRL) and PAIN: Plague Dog Skumm (APL)
Dixie:
ILL: "Too Sexy" Kevin Nash (TCL)
wrestles under contract to Anthony Rodriguez of Alabama; had to edge out EDGE: "Exotic" Enrique Eight (SAL), "Hacksaw" Bane Bradshaw (MRL), and CC: President Barack Obama (ZPL)
Eastern:
CC: The Anthropologist (ZPL)
managed by Dan Wiberg of Florida; edged LPPF: The Lethal Little Guy (ECL) and ILL: Illusionary Warrior (WCL)
Mountain:
EDGE: "Arrogant" Aaron Ace (SAL)
coached to point flow victory over CC: D.C. Wiberg (ZPL) by Jeremy Nace of Oregon
Northern:
PAIN: Andrew the Angry Albino (ECL)
picked up $20,000 for John Gabriel
Prairie:
CC: Nitro (ZPL)
took another title for Dan Wiberg
Southern:
ILL: Beelzebub the Clown (RYL)
owned by Chad LaBombard of Michigan
Western:
ILL: Mr. Excellent (ZPL)
led to a win over PAIN: Plague Dog Filth (APL) by Anthony Rodriguez
LADIES' TITLES
LB: Lotus the Ninja Girl (VVL) gave up her U.S. title to take the Ladies' World Championship from her stablemate and partner L.A. Mazzaratti, so manager Frank Snow of North Carolina wins a second straight engraved plaque (or 15 free matches)! Lotus had 500 points. She and LB: Kimona competed for the Ladies' U.S. tag straps, and the pair nearly went from holding U.S. tag to World tag then back to U.S. tag in only three cycles! Unfortunately, their plans were thwarted by CGT: Drunk Debbie and Tipsy Tammy Stevens (FFL), who belong to Chad LaBombard of Michigan. Debbie stumbled into a Queen of the Ring victory and Tammy wound up with the U.S. title, then they teamed with stablemate Carol the Bar Maid and brought home the World Six-woman belts! They had a 521 team total. So did ILL: Powerpuff Girls Jessica, Tiffany, and Erin (MDL), plus LPPF: "Heartbreak" Heather Hall, "Beautiful" Becky Hall, and "Sizzling" Cheri Summers (VVL), but the CGT trio had the best point flow. CTI: Powerpuff Girl Amber (FFL) won the Ladies' National title with a perfect 501-pointer. Darrell Brewer of Alabama manages her career. Tim Zaegel of Virginia coached LPPF: "Action" Amber Amann and "Vivacious" Valerie Phoenix (FFL) to the Ladies' Tag-team belts. They had a 516 total. Then Tim had stablemates "Sweetness" Stacy Warner and "Captivating" Christy Lance join Amber, and they took home the U.S. Six-woman championships with a 521-point team total!
WORLD TAG-TEAM CHAMPIONS
Three teams had to share these titles due to an unbreakable tie. The EDGE pair is managed by Steven J. Deane of Nebraska. Rusty Riggs, Jaxx Justice, and Legendary Spoiler #16 all belong to Tim Zaegel of Virginia, while #17 is owned by Keith A. Maple of Ohio. All 10 teams in the standings had 516 points, and so did LPPF: The Master of Disguise and the God of Destruction (OSL); LPPF: "Hazzardous" Bo and Luke Duke (IIL); EDGE: M. Shadows and Synyster Gates (NGL); plus PAIN: Blindside and "Black Dawn" Brock Wyant (JDL). Previous champions Shutdown Samuel and Hardcore Dawkins remained on the list!
TOP 10 TAG-TEAMS
1.
EDGE: Diamond Dog & Cyrus the Virus (CSL)
LPPF: Rusty Riggs & Jaxx Justice (BHL)
LPPF: Legendary Spoilers #16 & #17 (ALL)
4.
ACE: "High Flyin'" Alex Hash & "The Golden One" Petey Pump (JIL)
5.
KOPD: Fathers Johnny Bedlam & Gerry Chaos (ZPL)
6.
EDGE/TCM: Timmy Folgers & Robby Daulton (MRL)
ACE: Minimum Wage Martinez & Freaking Rican Ramon (MBL)
8.
ACE: Masked Presidents Clinton & Nixon (NFL)
9.
PAIN: Lakota Warriors Bearheart & Chief Sitting Bull (AAL)
10.
ACE: Shutdown Samuel & Hardcore Dawkins (LSL)
U.S. TAG-TEAM CHAMPIONS
ACE: The Undertaker and Emerald Weapon (HWL) kept these titles in their stable's possession. Bob Dippy of Pennsylvania led them to point flow victory over LPPF: Badd Co. Lex Stevenson and Rock Warner (ZPL); ACE: Ricky and Johnny Fame (NFL); ILL: Mr. Hankey and Man-Bear-Pig (MBL); LPPF/UA: Demonic Dudes Lucifer Ace and Samhain Douglas (OSL); MDH: Ole and Arn Hammerson (MRL); LPPF: Aunt Mary and Uncle Mike (IIL); LPPF: Dominant Factors Envy and Hate (SAL); plus EDGE: Johnny-23 and Billy Bedlam (CSL). Each team had a perfect 516 total!
WORLD SIX-MAN CHAMPIONS
There was a twelve-way tie for these titles last cycle! Darrell Brewer of Alabama won a share for the third time in a row, this time winning with two teams! His wrestlers were ILL/RAW: The Macho King, the P. King, and the C. King (RCL), and ILL: Kenny, Jesus, and Satan (LOL). Gregg Boyle of Maryland kept his name on the belts, as well. ILL: Jason, Gregg, and Tony (THL) did the honors for him this time. Demonic Dave, Ruthless Rick, and Extreme Evan Riot (TDL) were the final ILL representatives. Their manager is Jason P. Miller of Kansas. ACE: Army of Oblivion, Total Anarchy, and Lethal Assault (NFL) took a piece of the pie for Howie Sandberg of New York. Sly Smith of West Virginia led ACE: King Diamond, Suicide King, and King of Hearts (CWL) to victory. Mike Moore of North Carolina managed LIGHTNING XPRESS: Bullet/Brave Bob Horner, Ballistic Brad Horner, and White Lightning Tim Armstrong (MRL) to the titles, while Mike Dorsett of New York coached EDGE: Ollis, Cuthrak, and Thanatos Rage (JDL). CGT: Adult Content, X-Rated, and Uncensored (BHL) earned more recognition for Chad LaBombard of Michigan. Jonathan Akers of Texas showed up with COT: "Ranger Joe" Joey Gladstone, "Have Mercy" Jesse Katsopolis, and "Rad Dad" Danny Tanner (BBL). Keith A. Maple of Ohio's LPPF: Legendary Spoiler #17 claimed a share along with #18 and #24 (ALL), who belong to Tim Zaegel of Virginia. Finally, EDGE: The AA Dropout, Off the Wagon, and the Last Call Legend (JRL) were supposed to be transferred to the ECL, where they would have taken the six-man titles and thus been in the running for these belts. That didn't occur, due to a mistake on our part, so we entered them in the competition for these titles as compensation to manager Jeff Annable of Canada. All the teams listed had 521 points, and so did EDGE: Kensuke Sakura, Katsuro Bushi, and Ryoichi Banzuke (MPL); EDGE: Diamond Dog, Johnny-23, and Cyrus the Virus (CSL); EDGE: Maxey Banks, Carmelo Crisp, and Raineesha Sweet (ZPL); ACE: Evil Dr. Will Kirby, Frank Shamrock, and Ken Shamrock (NGL); ACE/NSL: "Disturbed" Demento, "Dynamic" David, and "The Franchise" Danny Destiny (OSL); VU: New England Patriots #1 Fan, the Portuguese Godfather, and Boston Celtics #1 Fan (LBL); ACE: Player's Club Poppa, Apollo Legend LeRoy, and Bogarting Bob Sax (MBL); ILL: C.H. Austin "Endless" Summers, Masked Inmate V.E.B., and Mr. Stroke of Death (EHL); ILL: J-Lew, HEAP, and T-Sizzles (PKL); WWW: Death Machine, Hardcore Tommy Valentine, and Diabolical Jerry Savage (NAL); plus TB/COMMISH: The Devil's Disciple, nWo: Candyman, and GhouL's (KKL).
U.S. SIX-MAN CHAMPIONS
Four teams ended in an unbreakable tie for these titles. ILL: Captain HiJack, "Quit Crying" Bobby D., and Jeff (THL) belong to Gregg Boyle of Maryland. EDGE: Trailer Park Boys J-Rock, Trevor, and Cory (LOL) are managed by Jeff Annable of Canada. John M. Kruse of Indiana owns ACE: Mr. Richard, Charles, and Tyler Black (CSL), while EDGE: Juvenile Delinquent, the Latchkey Kid, and Junior High Dropout (BHL) are the property of Scott K. Olson from Nevada. Also with a 521 team total were ACE: Atomic Punk, Electric Doom, and Electric Death (NGL); EDGE: Jerry "Boom Boom" Gordy, Dark Angel, and Dark Angel #2 (RYL); ILL: Austin, Alex, and Andrew (HML); LPPF: Whitesnake, Journey, and Poison (ZPL); plus ILL: Darrell the King Brewer, Darell the Ex CEO Brewer, and the Destroyer of Rome (MBL).
TOP 10 LEAGUES
Going by the number of matches in each, the most active leagues for the February cycle are shown below. The All Star League retained the top spot, but only by a hair. Since the active wrestlers in the Zeus Power League had the best average strategy total out of all 10 leagues, their managers can choose to take two matches for $1 next cycle! The previous winner, the MRL, was barely over a point away. All 10 leagues had impressive averages this time!
| | | |
| --- | --- | --- |
| 1. | ASL (1,044 matches) | 489.295 |
| 2. | MRL (1,024 matches) | 494.010 |
| 3. | GRL (937 matches) | 490.053 |
| 4. | ZPL (700 matches) | 495.025 |
| 5. | NAL (695 matches) | 492.484 |
| 6. | XPL (588 matches) | 488.302 |
| 7. | JIL (587 matches) | 490.036 |
| 8. | MBL (586 matches) | 492.903 |
| 9. | SGL (558 matches) | 485.923 |
| 10. | TCL (536 matches) | 492.100 |
TOP 20 MONEY HOLDERS
(Inactive wrestlers were excluded from this list.)
| | | |
| --- | --- | --- |
| 1. | LPPF: Innovator of Arrogance Keith A. Maple (XPL) | $13,285,900 |
| 2. | "Mr. Powerful" Ken Lambeau (PKL) | $12,043,900 |
| 3. | WWW: Mike White Lightning Moore (QPL) | $11,774,300 |
| 4. | DFI: American Freedom Fighter E.J. (SHL) | $11,543,238 |
| 5. | ACE: The Survivor (ECL) | $10,768,200 |
| 6. | JL6: The Hooded Inmate (RBL) | $10,729,400 |
| 7. | ACE: King Krusher (EEL) | $10,324,700 |
| 8. | EDGE: Johnny Cage (JIL) | $9,792,038 |
| 9. | RENEGADE: Eric "The Cobra" Langdon (MIL) | $9,458,300 |
| 10. | WWW: Motorheadbanger Annihilator (JIL) | $8,580,000 |
| 11. | ROW: Special Agent B.M.F. (JIL) | $8,064,400 |
| 12. | PAIN: Manitou (AAL) | $7,995,200 |
| 13. | LPPF: Diesel Duddick (NSL) | $7,865,300 |
| 14. | PAIN: Cougar - WK (AAL) | $7,582,800 |
| 15. | ACE: Hitman Howie Sandberg (NAL) | $7,454,600 |
| 16. | LPPF: Wyld Stooge Larry Logan (PKL) | $7,171,000 |
| 17. | WWW: Mike White Lightning Moore (NAL) | $6,692,100 |
| 18. | PAIN: Dragon Tzu (AAL) | $6,650,800 |
| 19. | Johnny "2 Kold" Koolakowski (LOL) | $6,581,600 |
| 20. | Easy E. Joe Cool (CWL) | $6,489,400 |
LIST OF LEAGUES
IRON FEDERATION: Center Stage, Extreme Existence, Hardcore Wrestling, Iron Man, Murder Incorporated, Mysterious Benefactor, Next Generation, Quick Pin, Rising Stars, Slumber-party Massacre, Under Fire, Wrestling Superstars, Xtreme Poison
STEEL FEDERATION: Absolute Pain, Caribbean Coast, Devil Inside, Intense Impact, King Kong, Lost Souls, Mid-Atlantic Region, New Blood, Old School, Praying Mantis, Pressure Packed, Rebel Yell, Vicious Valkyries, Zeus Power
GOLD FEDERATION: All Star, Battle Royal, Black Ops, Blood Bath, Chicago Legends, Classic Wrestling, Dark Angel, Federated Suns, Hit Man, Majestic Property, Masked Wrestling, Mystic Diva, Ninja Dojo, Texas Death
DIAMOND FEDERATION: American Bodyslam, American Legion, Armed Forces, Bounty Hunter, Dark Days, Evil Clown, Femme Fatale, Fractured Jaw, Last Breath, Lights Out, Night Falcon, Noble Savage, Non-stop Action, Rajun Cajun, Xtreme Wrestling
BRONZE FEDERATION: Barbaric Warrior, Coffin Filler, Extreme Hardcore, Grim Reaper, Hot Streak, Iron Glove, Jersey City Wrestling, Main Event, Men of Steel, Old Timer's, Raging Bull, Soul Asylum, Torture Chamber, War Cry
JADE FEDERATION: Atomic Age, Iron Cross, Jade Dragon, Just Incredible, Just Rasslin', Killer Soldiers, Lovely Ladies, Psychotic Killer, Smoking Gun, Super Hero, Thor's Hammer, World Wrestling, Wrestlers Elite